Rayuela, 2005
Installation | 22.5 x 29 cm (each of 322 frames) | Ink jet print on cotton paper


Cortázar's book Rayuela (Hopscotch) begins with a proposal: "In its own way, this book consists of many books, but two books above all." Cortázar invites the reader to choose one of the two possibilities by reading the book linearly or by leaping between chapters following the alternative order he proposes.In Rayuela installation most of the text of the book was digitally suppressed by me except for the sentences in which I found motion verbs and the numbers of pages and chapters.

O livro Rayuela, de Julio Cortázar, começa com uma proposta: "À sua maneira, este livro é muitos livros, mas é, sobretudo, dois livros. O leitor fica convidado a escolher uma das possibilidades:".A instalação Rayuela apresenta outra leitura possível: suprimi digitalmente quase todo o texto do livro, deixando apenas as passagens em que encontrei verbos de deslocamento espacial, além dos números de páginas e capítulos. O trabalho sugere uma leitura que evidencia esses deslocamentos, que me parecem ser a estrutura do livro, como é também a do jogo da amarelinha.


Prefiro sim, 2005
Video | 2'24" | Color, sound
A Biblioteca de Babel, 2005 - 2011
Ambient

"Is there any book you would like to share with the world?" I ask people participate in the project lending a book so I can create a temporary library. Other pieces connected to the library idea are also shown in the same space. The visitors enjoy the ambient reading or resting, listening to selected audio and music. They can also add their books during the exhibition period. At the end of the exhibition, all books are returned to its owners.
"Há algum livro que você gostaria de compartilhar com o mundo?"A partir dessa pergunta, convido pessoas para emprestar um livro seu e constituir, assim, uma biblioteca provisória. Outros trabalhos relacionados à idéia da biblioteca são mostrados no mesmo espaço. Os visitantes podem aproveitar o ambiente lendo, descansando e ouvindo listas selecionadas de audio e música. Também podem adicionar livros durante o período da exposição. Ao final da exposição, todos os livros são devolvidos aos proprietários.
Sob neblina, 2004
Series of notebooks | Steel, jetted glass | 21 x 21 x 5.5 cm (each)

In 2004 I started collecting sentences containing the word "silence", taken from the books I read. I tried to classify the sentences. I have produced 24 different glass notebooks, each one containing ten phrases, or ten types of silence.
Em 2004 comecei a colecionar frases com a palavra "silêncio", tiradas dos livros que leio. Produzi 24 cadernos de vidro. Cada um é único e contém dez frases – dez tipos de silêncio.
A meia-noite é também o meio-dia, 2004
Modified double-face clock | 61 x 45 x 16 cm

A meia-noite é também o meio-dia (Midnight is also mid-day) is an apparently common clock that suggests modified, expanded, slower time. The clock takes exactly 24 hours for a complete rotation, and coincides with the oficial time only at noon.
Um relógio que leva o dobro do tempo para dar uma volta completa, coincidindo com o horário oficial apenas ao meio-dia. Ao propor um tempo expandido, ora parece estar atrasado, ora adiantado.
Constelações, 2003
Video | 46′ | Color, no sound

I film cities at night. I look for some hidden word in their lights, as if I was looking for constellations in the sky. The result consists of nine short shots. The city lights are digitally turned off until only the found word remains.
Filmo cidades à noite. Procuro em suas luzes uma palavra escondida, como se procurasse no céu os desenhos das constelações. O resultado são 9 planos sequência de curta duração, em que as luzes vão sendo digitalmente apagadas até que reste apenas a palavra encontrada.
A Origem da Obra de Arte, 2002/2011

Installation | Ceramic plant-pot/letters, planting tools, soil and seeds

A Origem da Obra de Arte (The Origin of the Work of Art) was originally presented in 2002 at Museu de Arte da Pampulha, in Belo Horizonte. In 2011, the work was rebuilt as a permanent pavilion at Inhotim, a small shed which resembles a greenhouse or gardening studio.The plant-pot/letters were handmade by dozens of women from the surrounding communities.

The work invites the interaction of the visitors, who are enticed to compose words and sentences and to distribute them through the fields. Each letter has the shape of an earthenware plant pot and there are planting tools, soil and seeds available for the spectator's use.
A Origem da Obra de Arte
foi apresentada originalmente no Museu de Arte da Pampulha, em Belo Horizonte, em 2002. A instalação foi repensada como um pavilhão permanente para Inhotim em 2011. Foi construído um pequeno galpão, evocando uma estufa ou um ateliê de jardinagem. As letras-vasos foram produzidas pela cerâmica que funciona em Inhotim, num processo que durou vários meses e contou com a participação de dezenas de mulheres das comunidades do entorno.
A obra constitui um convite para a interação do espectador, instigado a compor palavras e sentenças e a distribuí-las pelo campo. Cada letra tem o feitio de um vaso de cerâmica e, à disposição do espectador, encontram-se utensílios de plantio, terra e sementes.
O originário na obra de arte de Marilá Dardot, por Aline Reis (Português)︎︎︎
Pensamento do Fora, 2002
Exhibition view: Projeto Pampulha, MAP, Belo Horizonte, 2002

Site specific | 40 sentences printed on metal signs

Strolling through the garden of Museu de Arte da Pampulha, I noticed signs stuck into the ground: "Don't walk on the grass", "No fishing", "No bicycles". I wanted to put up signs that were neither prohibitive nor commanding, that would help us perceive the surroundings differently. They were put there, mixed in among the originals.
Passeando pelo jardim do Museu de Arte da Pampulha, notei as placas fincadas: não pise na grama, proibido pescar, proibido o trânsito de bicicletas. Quis fazer placas que não fossem proibitivas nem imperativas, placas que nos fizessem perceber o entorno de uma outra forma. Elas foram fincadas lá, misturadas às originais.
++, 2002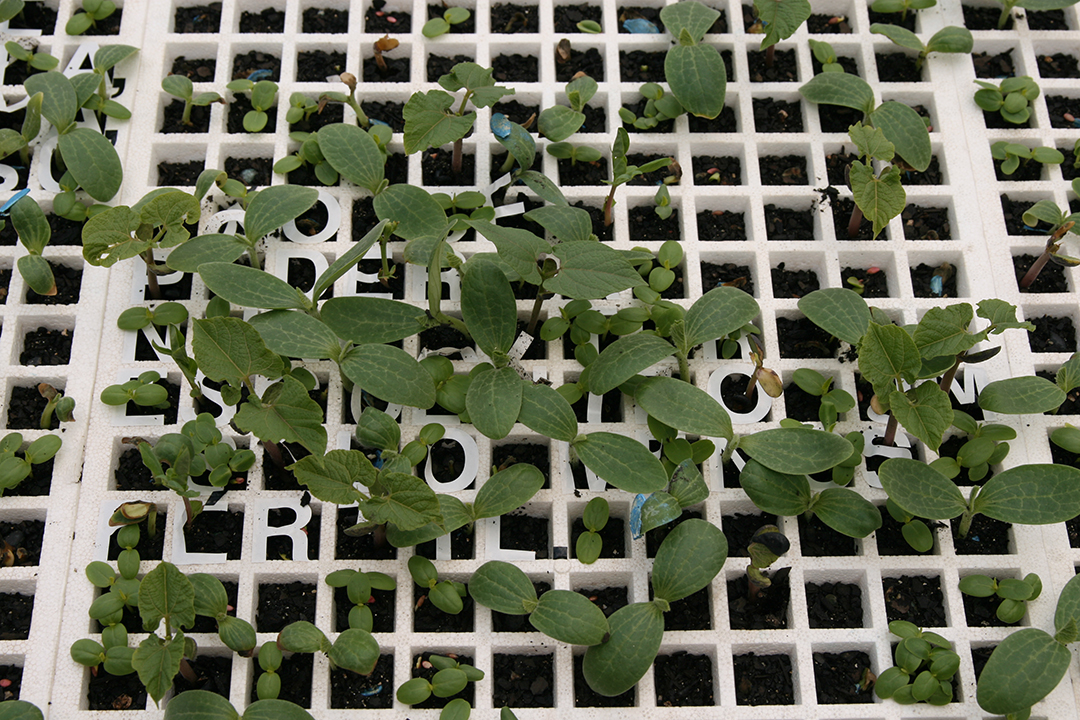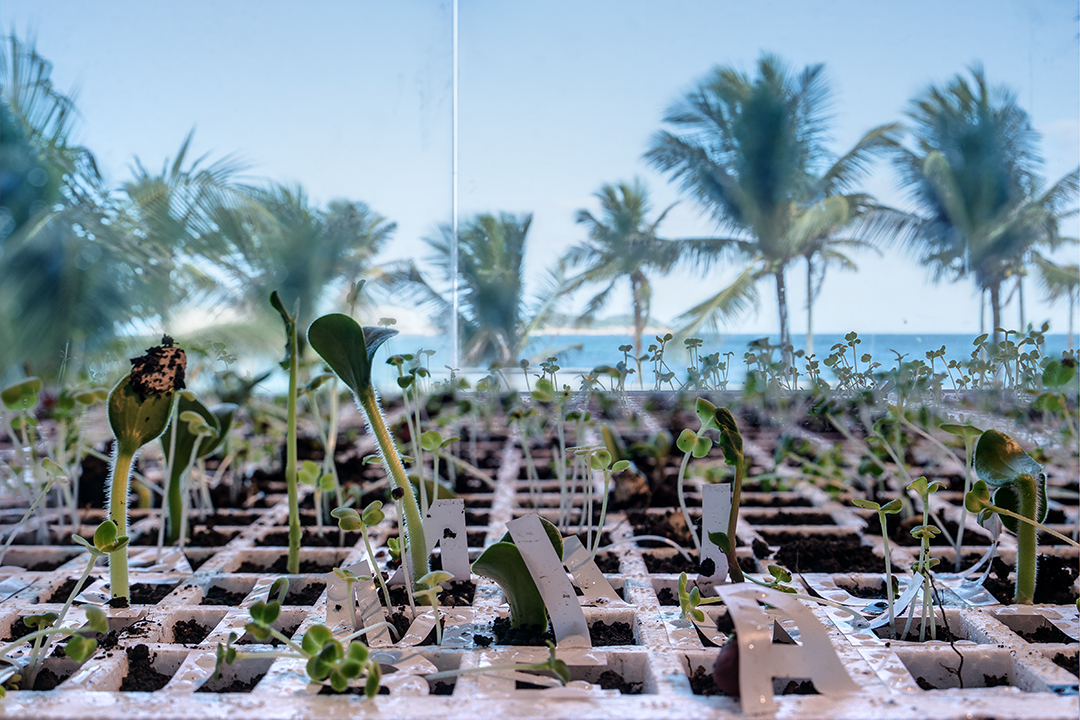 Installation | Styrofoam trays, wooden table, seeds and vinyl letters

I wrote passages from Grids, by Rosalind Krauss, with adhesive vinyl lettering on Styrofoam trays. Under each letter, a seed was planted. The seeds grow, press the letters and disrupt the text.

The grid announces modern art's will to silence, its hostility to literature, to narrative, to discourse. Never could exploration have chosen less fertile ground. Development is precisely what the grid resists. Flattened, geometricized, ordered, it's antinatural, antimimetic, antireal. Its what art looks like when it turns its back on nature.
* Extract from Grids, by Rosalind Krauss, 1985 (edited by the artist)


Escrevi trechos do texto
Grids
, de Rosalind Krauss, com letras de vinil adesivo, sobre sementeiras de isopor. Sob cada letra, foi plantada uma semente. As sementes crescem, pressionam as letras e desorganizam o texto.
A grade anuncia um desejo de silêncio da arte moderna, sua hostilidade à literatura, à narrativa, ao discurso. Não se poderia nunca ter escolhido solo menos fértil. Desenvolvimento é precisamente ao que a grade resiste. Aplanada, geometrizada, ordenada, ela é antinatural, antimimética, antireal. É como a arte se apresenta quando dá as costas à natureza.
* Trecho de
Grids
, de Rosalind Krauss, 1985 (editado e traduzido pela artista)
Hic et nunc, 2002

Video projected on a whiteboard | 10'23 | Color, no sound | 60 x 43 cm (whiteboard)



Rosalind Krauss defines the verbs in Richard Serra's Verb List of 1967-68 as machines that are able to build his work. Hic et nunc is my set of machines.

I began making my own list of verbs, which included the verbs to forget, to dialogue, to err, to play, to move, and, again, to forget. Each of the 72 verbs on the list was written by my right hand on a whiteboard and then erased by my left hand. The first and last verb is to forget. The video that records this process is played in a loop and projected onto the same whiteboard.

Rosalind Krauss definiu os verbos da lista de Richard Serra, de 1967-1968, como máquinas capazes de construir seu trabalho. Com Hic et nunc tentei descobrir quais eram as minhas máquinas.
Escrevi minha própria lista, que incluía, entre outros, os verbos "esquecer", "dialogar", "errar", "jogar", e, por fim, "esquecer". Cada um dos 72 verbos foi escrito por minha mão direita em uma lousa branca, e logo depois apagado pela mão esquerda. O vídeo que registra a ação é projetado sobre a mesma lousa branca.
Desapego, 2002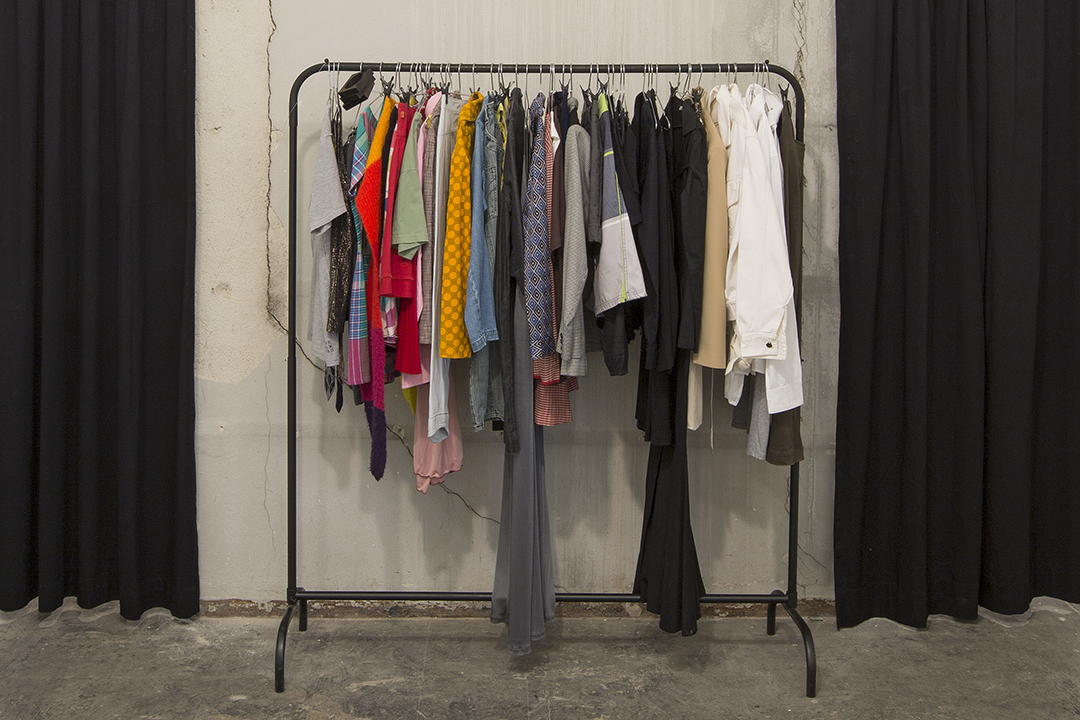 Exhibition views: Posição 2004, Parque Lage, Rio de Janeiro, 2004 | Apodi 69, Pivô, São Paulo, 201
Work in progress |
Clothes rack with clothes, instructions text


Desapego (Unattachment) began when I asked some friends to donate one piece of clothing they liked very much, didn't wear, but were never able to get rid of. Each person wrote his name on the donated clothe. The first rack set was placed on a nightclub in Rio de Janeiro, for two months. There, anyone who wanted could exchange their own clothes for any of those on display. Since then, the work has been set up four more times. It became a means of exchange, and hundreds of items of clothing were put on it, bearing emotions, memories and new possibilities.

O trabalho começou quando pedi aos amigos que doassem uma ou mais peças de roupa de que gostassem muito, mas que não usassem, e mesmo assim nunca conseguissem se desfazer dela. Cada pessoa escreveu o seu nome na peça doada. A arara contendo as roupas foi colocada em uma boîte no Rio de Janeiro, durante dois meses. Lá, os frequentadores que quiseram trocaram suas próprias roupas por aquelas. Desde então
Desapego
foi montado mais quatro vezes, tornou-se um meio de trocas, e passaram por ele centenas de roupas, de afetos, de memórias, de novas possibilidades.
O Banquete, 2000
Steel, acrylic, printed acetate | 14 x 21.7 x 8 cm

I asked friends to send me a text of their choice to speak of love. The texts I received were brought together in O Banquete (Symposium).The texts overlap and mix together, forming confusing lines, fusing together, contrasting, adding and subtracting.
Pedi que amigos me mandassem um texto, escolhido por eles, para falar sobre o amor. Os textos recebidos foram reunidos em um arquivo de páginas transparentes, em que os textos se sobrepõem e se misturam formando linhas confusas, fundindo-se, contrapondo-se, somando e subtraindo.
A Retórica, 2000
Acrylic, fax printer paper, bolts | 15.5 cm x 40 cm x 27 cm

In A Retórica (Rhetoric), I gathered newspaper ads that claim to improve or even write letters, messages and papers. The ads were printed on fax paper and separated by layers of transparent acrylic, making them go disappearing with the depth and the action of light and time.
Reuni anúncios de jornal que pretendiam melhorar, precisar ou mesmo fabricar o discurso de um outro. Os anúncios, impressos em papel de fax, foram separados por camadas de acrílico transparente, fazendo-os ir sumindo com a profundidade e a ação da luz e do tempo.
O Livro de Areia, 1999
Book with mirrors pages | 24 x 16.3 x 3.4 cm

In the short story The Book of Sand, Jorge Luis Borges finds an infinite book whose pages never repeat themselves. Heraclitus argues that it's not possible that the same man step twice into the same river. Therefore the reader also never find the same sense in the book's pages, even if these remain the same. I conceived this piece for them.


No conto
O livro de Areia
, Jorge Luis Borges se depara com um livro infinito, com páginas que nunca se repetem. Partindo deste texto e do fragmento de Heráclito em que afirma não ser possível o mesmo homem entrar duas vezes no mesmo rio – e, portanto, o leitor de um livro também nunca encontrará o mesmo sentido em suas páginas, mesmo que essas permaneçam as mesmas – concebi esse trabalho.
Coleção Itaú Cultural︎︎︎