Pensamento do Fora (revisitado)
Parque Cultural Casa do Governador, Vila Velha, 2022



Permanent outdoor piece at Parque Cultural Casa do Governador


Trabalho ao ar livre e permanente no Parque Cultural Casa do Governador

Twenty years after Pensamento do Fora, made in 2002 to occupy the gardens of Museu da Pampulha, Pensamento do Fora (revisited) is a permanent installation of new signs, similar to the first ones,spread around the areas of Parque Cultural Casa do Governador, in Vila Velha, creating relationships with the landscape and the works of art. This time, the quotes were taken from a universe that reflects the changes in the artist's readings over these years and the current Brazilian editorial moment. Sixty citations were selected from a survey of 46 books by women authors, LGBTQIA+, black and indigenous, published or republished in Brazil in the last twenty years.The 46 books mentioned were donated to the park to be used by the educational sector for work activation activities.

List of books︎︎︎


Vinte anos depois do trabalho Pensamento do Fora, feito em 2002 para ocupar os jardins do Museu da Pampulha, Pensamento do Fora (revisitado) é a instalação permanente de novas placas, similares às primeiras, espalhadas pelas áreas do Parque Cultural Casa do Governador, em Vila Velha, criando relações com a paisagem e as obras dos outros artistas seleccionados. Desta vez, as citações foram retiradas de um universo que reflete as mudanças nas leituras da artista ao longo desses anos e o atual momento editorial brasileiro. Foram selecionadas sessenta citações a partir de uma pesquisa em 46 livros de autora(e)s mulheres, LGBTQIA+, negras, negros, e indígenas, publicados ou reeditados no Brasil nos últimos vinte anos.Os 46 livros citados foram doados ao parque para serem utilizados pelo setor educativo para atividades de ativação do trabalho.



Lista completa dos livros︎︎︎






Tort(guerr)illa
Ciudad de México, 2022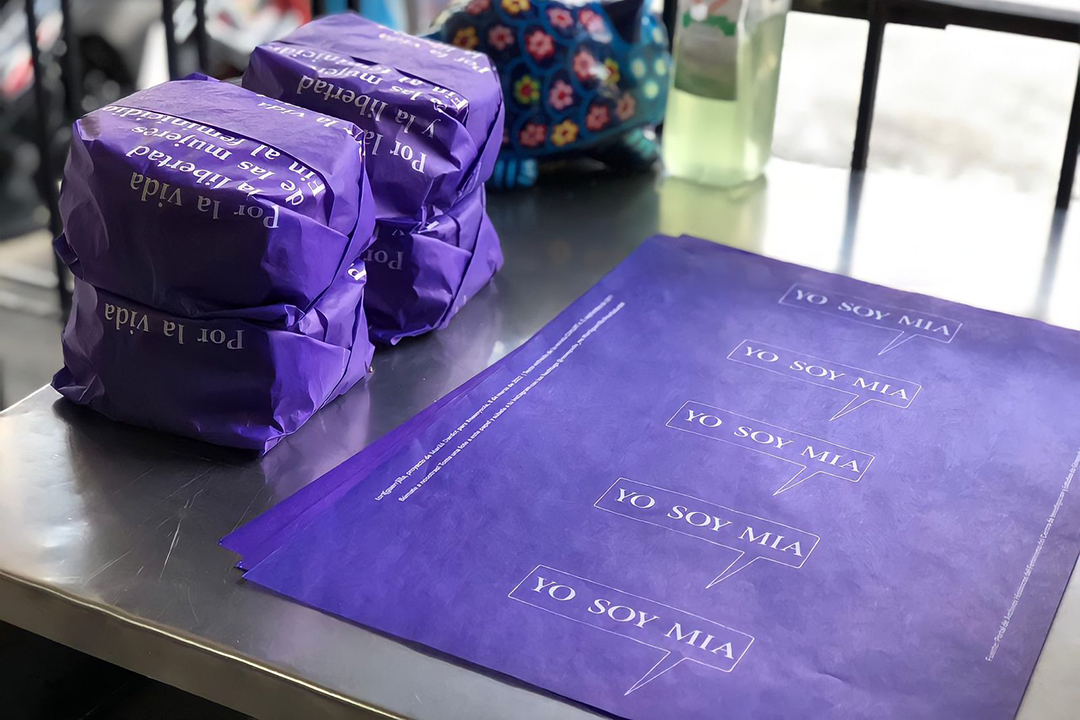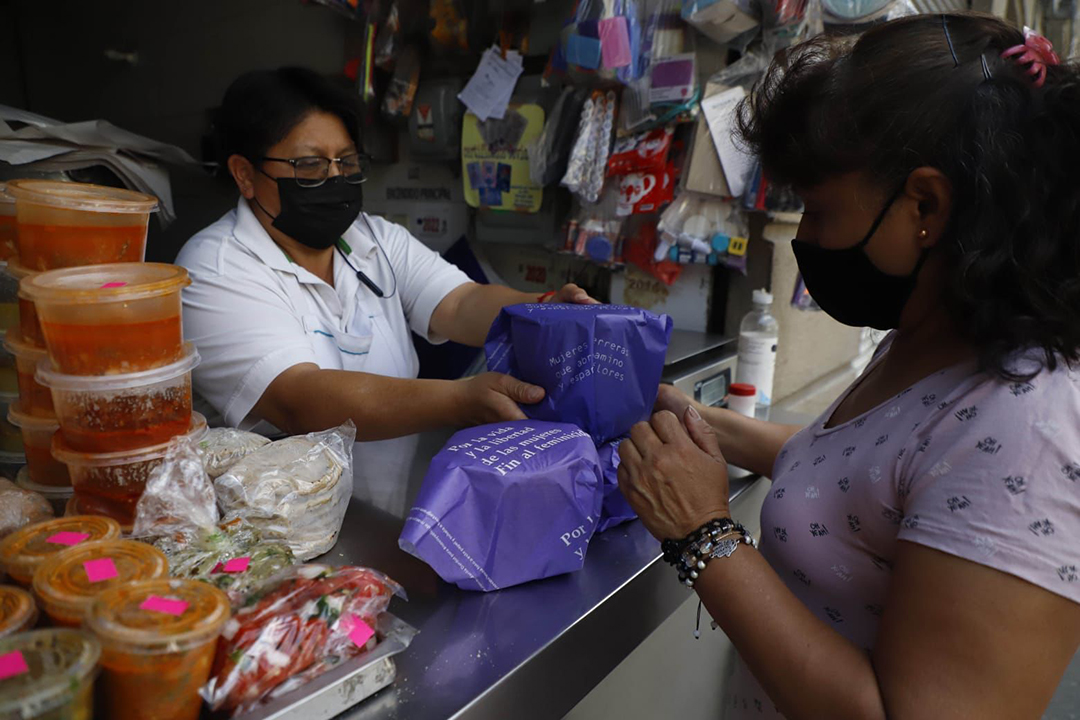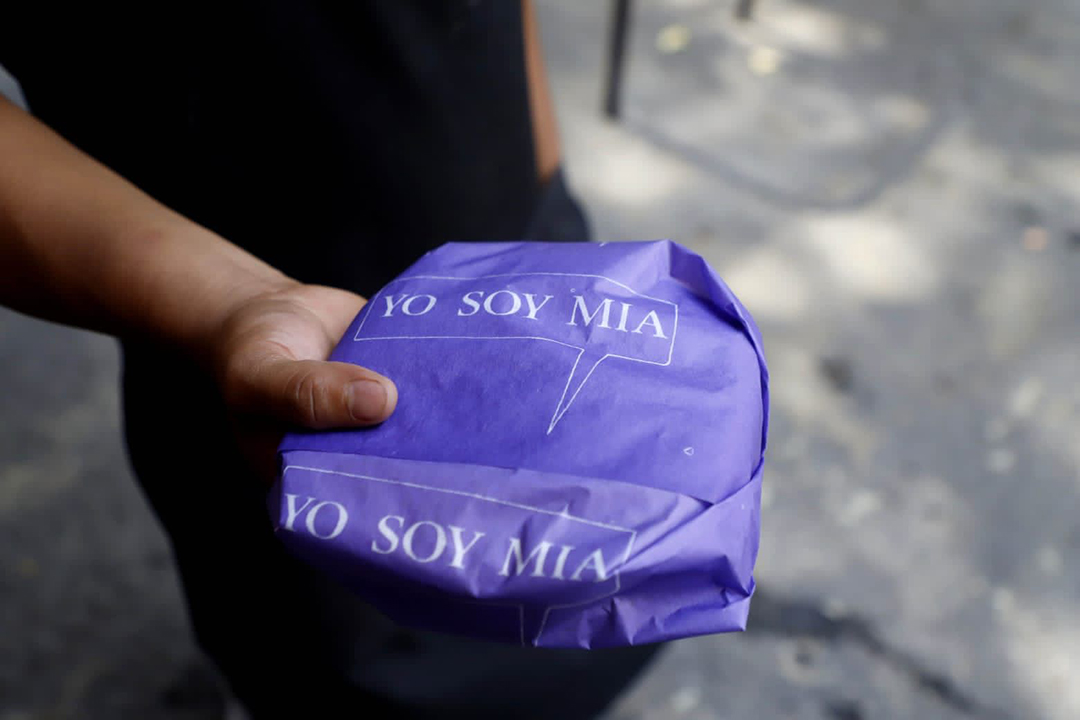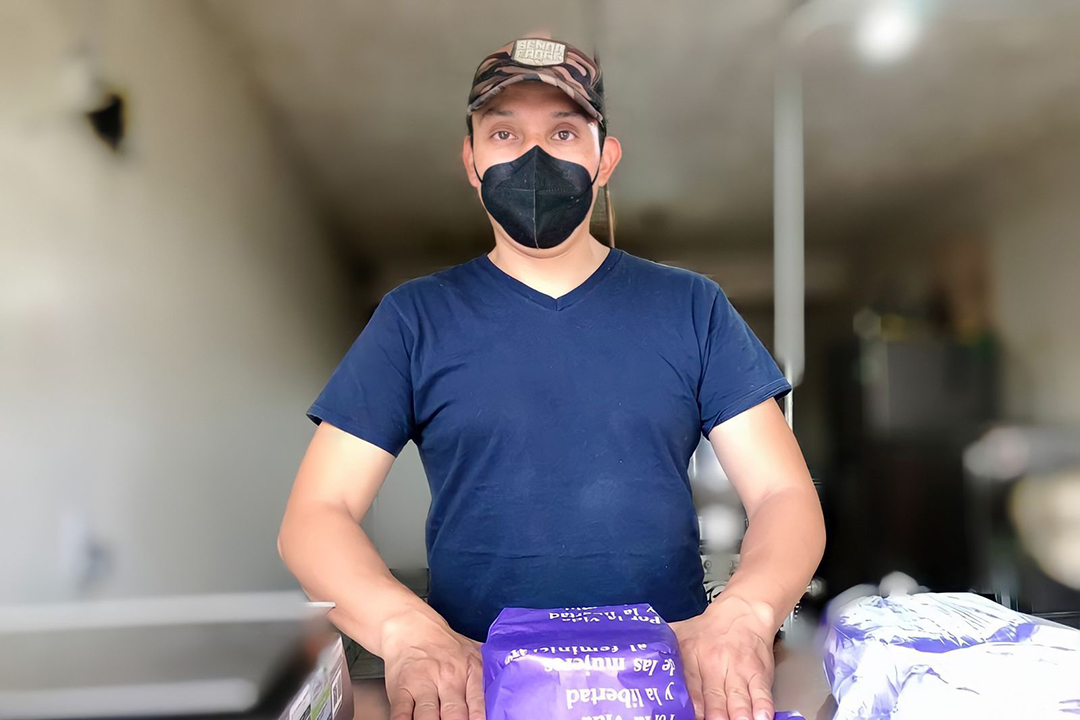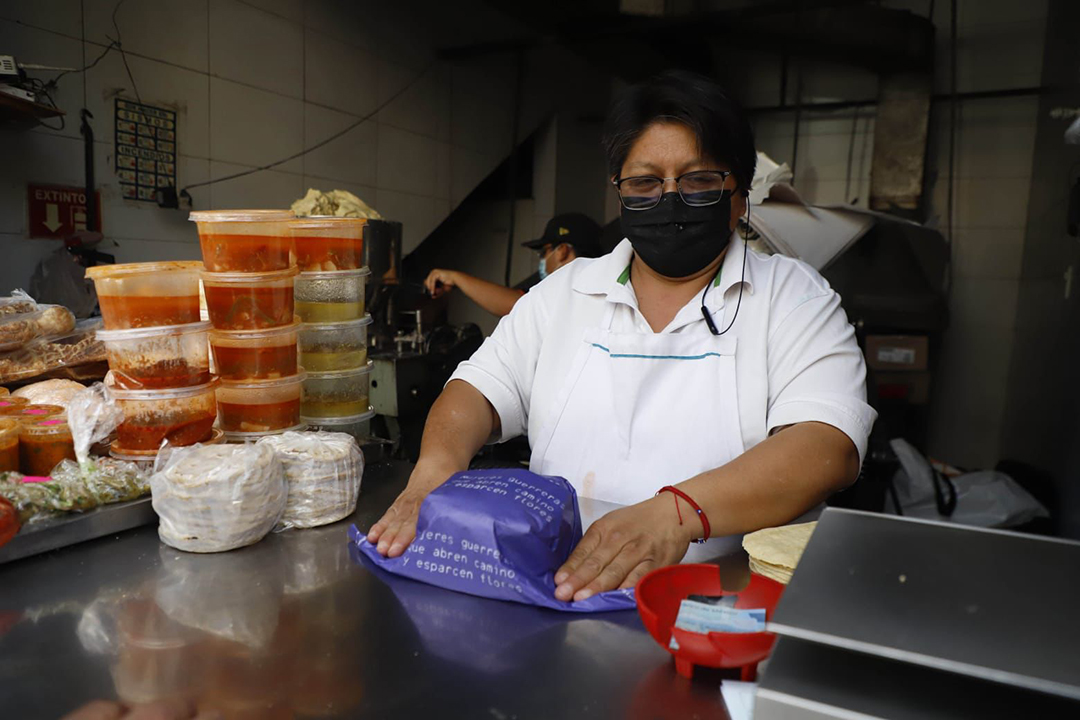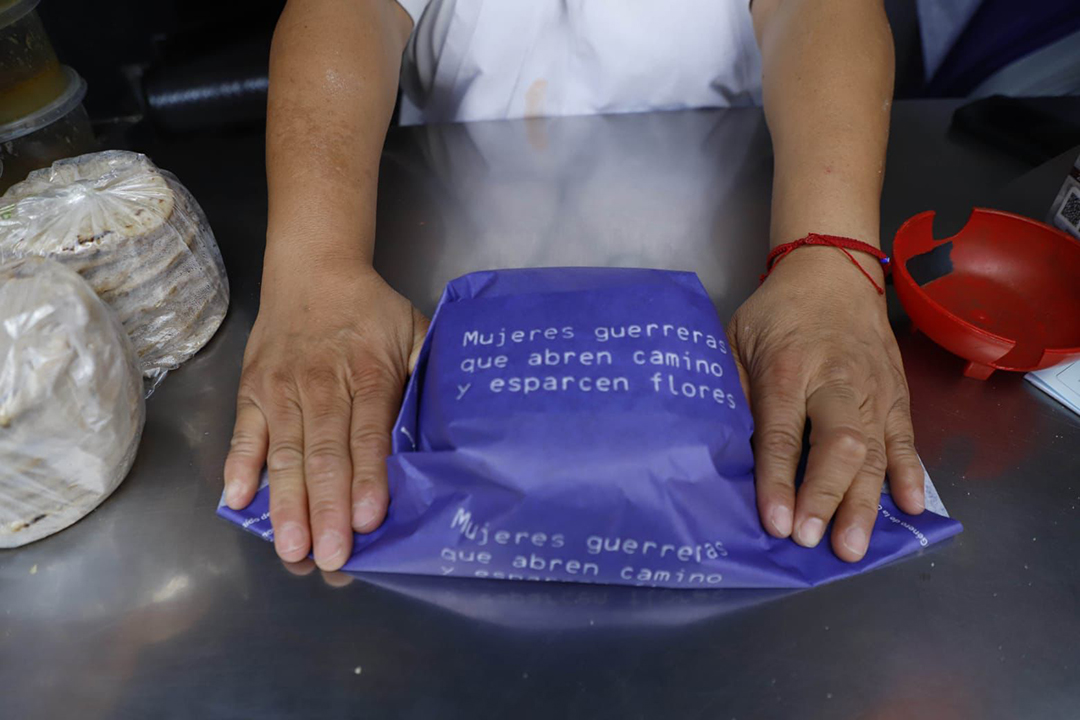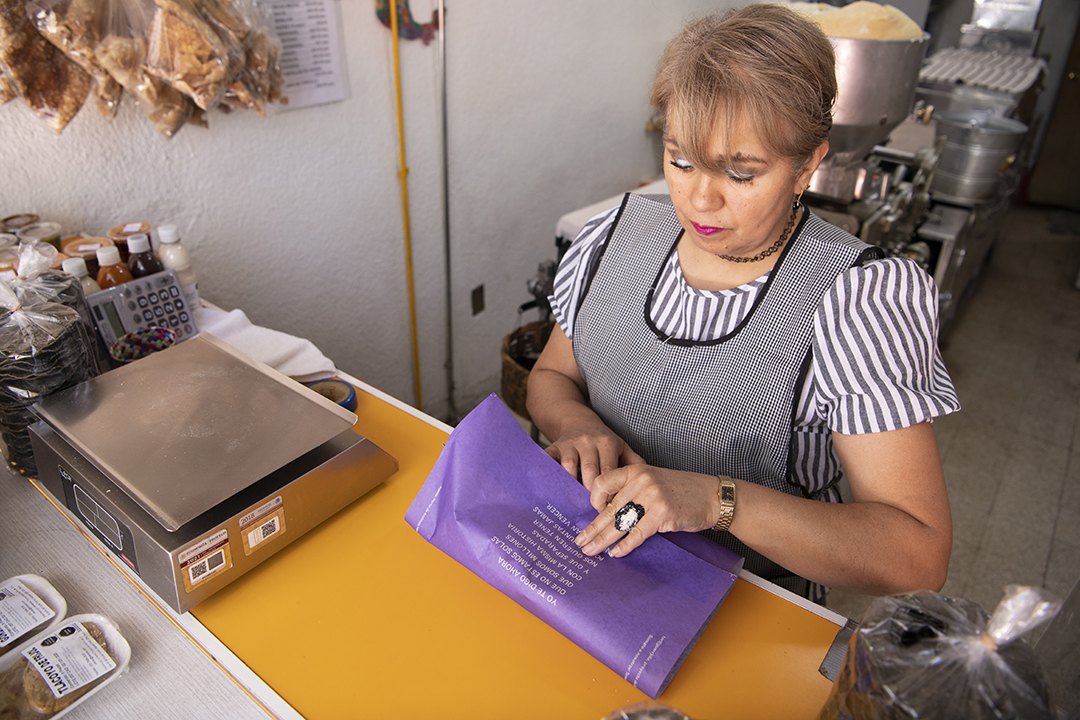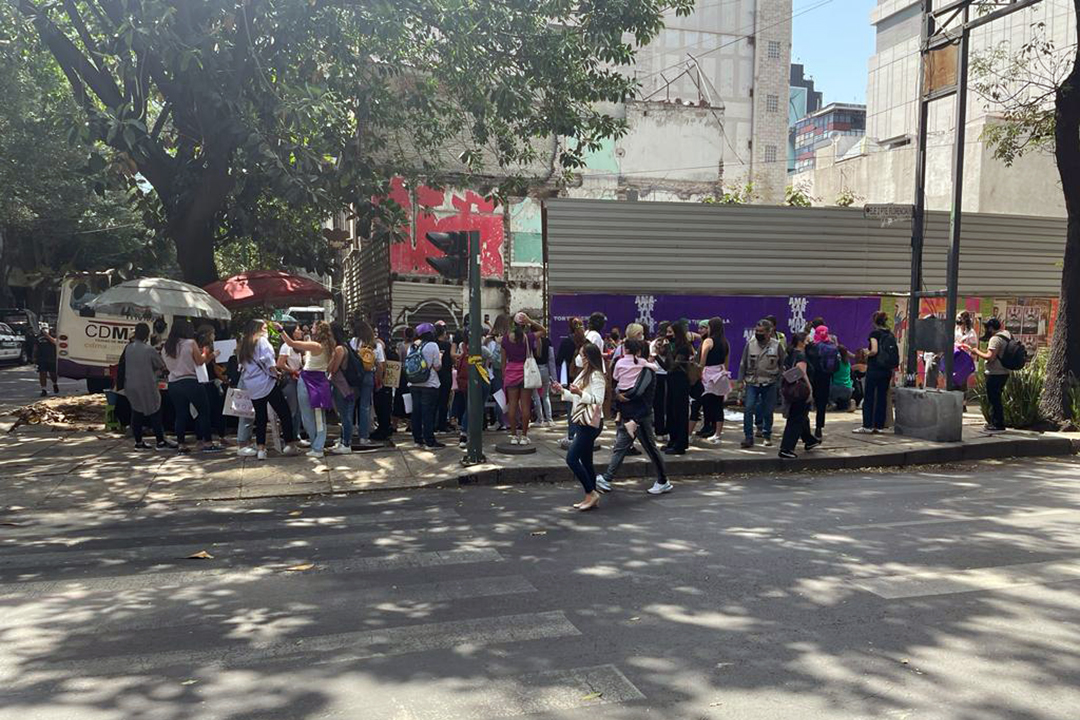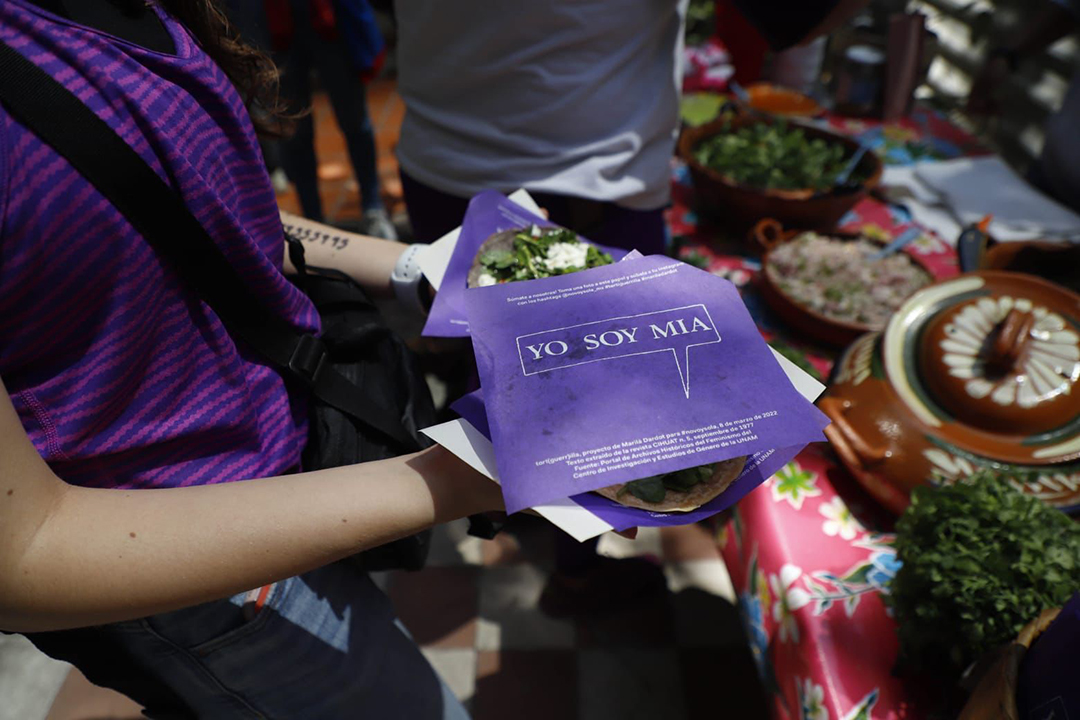 Public intervention


Intervenção pública
On March 8, 2022, Marilá Dardot implements the Tort(guerr)illa project in Mexico City.The action starts from the classic Mexican tortilla shops to spread various feminist voices from hand to hand. Around Mexico City, establishments hand their customers tortillas wrapped in purple paper printed with phrases like "Our life, our bodies", "I am mine" or "For the life and freedom of women. End of femicide", among others. The slogans were selected by Dardot from a review of the collection of the Historical Archives of Feminism portal of the Center for Research and Gender Studies of the UNAM (CIEG), in which he consulted feminist magazines that were printed and distributed in Mexico during the 1970s, 1980s, 1990s and 2000s, such as Fem, La Revuelta, La Correa Feminista, CIHUAT and La Boletina.

The collective #novoysola and the Coletivo amasijo, join Marilá in the demonstration that had its apex during the actions of International Women's Day with an artistic action that seeks to rescue the historical memory of feminism and spread it on the streets and in the daily life of the home.

The papers were distributed in 33 tortilla shops in Mexico City's 16 regions, as well as in restaurants, where tacos were served with the project papers.

This insertion in the daily circuit of Mexico City penetrate public and private spaces, creating a color stain of values, principles and thoughts of a group that can no longer be ignored.

Em 8 de março de 2022, Marilá Dardot implementou na Cidade do México o projeto Tort(guerr)illa. A ação parte das clássicas lojas de tortilhas mexicanas para espalhar várias vozes feministas de mão em mão. Ao redor da Cidade do México, estabelecimentos entregaram aos seus clientes tortilhas embrulhadas em papeis roxos impressos com frases como "Nossa vida, nossos corpos", "Sou minha" ou "Pela vida e liberdade das mulheres. Fim do feminicídio", entre outros. Os slogans foram selecionados por Dardot a partir de uma revisão do acervo do portal Arquivos Históricos do Feminismo do Centro de Pesquisa e Estudos de Gênero da UNAM (CIEG), no qual consultou revistas feministas que foram impressas e distribuídas no México durante as décadas de 1970, 1980, 1990 e 2000, como Fem, La Revuelta, La Correa Feminista, CIHUAT e La Boletina.

O coletivo #novoysola e o Coletivo amasijo, se unem a Marilá na manifestação que teve seu ápice durante as ações do Dia Internacional da Mulher com uma ação artística que busca resgatar a memória histórica do feminismo e difundi-la nas ruas e no cotidiano do lar.

Os papeis foram distribuído em 33 lojas de tortilhas das 16 regiões da Cidade do México, bem como em restaurantes, onde tacos foram servidos com os papéis do projeto.

Essa inserção no circuito cotidiano da Cidade do México penetra os espaços públicos e privados, criando uma mancha de cor de valores, princípios e pensamentos de um grupo que não pode mais ser ignorado.




Primera plana
Ciudad de México, 2021
Urban intervention


Primera plana (Front page) begins a program of the Museo Experimental el Eco (Mexico City) that seeks to link with the civic dynamics that take place outside the museum; proposing crosses between the possibilities of digital platforms, site-specific work and artistic research. At a time when the pandemic has restricted the possibilities of the exhibition space, El Eco leaves its architecture to create interactions with various environments: historical, political, cultural, artistic and poetic.

Throughout a month, the artist carried out a daily routine that consists of carefully reading the main newspapers of the country, to choose and cut out phrases, words or acronyms that designate the collective subjects and social forces that occupy these spaces. In such a way that the words cut out by her become a great collage in progress that is fed every day by intervening in the logics and aesthetics of advertising communication.

This piece portrays from a poetic dimension the collective forces that move the history of the country: those that always remain, those that return, and those that emerge every day. By removing these characters from informative contexts and making them explicit as historical subjects, Marilá Dardot aims to provoke a reflection on the role they play in the construction of our society.

The project occupied nine advertising spaces in Mexico City, during the month of May 2021: LED screens located in Metrobús stations that are important points of flow and connectivity in the city. In addition, the proposal has an important virtual component that consists of videos that are published daily on the museum's and artist's Instagram stories.

El Eco Museo Experimental︎︎︎

Primera plana (Primeira página) dá início a um programa do Museo Experimental el Eco (Cidade do México) que busca estabelecer um vínculo com a dinâmica cívica que ocorre fora do museu; propondo cruzamentos entre as possibilidades das plataformas digitais, do trabalho site-specific e da pesquisa artística. Em um momento em que a pandemia restringia as possibilidades do espaço expositivo, El Eco deixa sua arquitetura para criar interações com diversos ambientes: históricos, políticos, culturais, artísticos e poéticos.

Ao longo de um mês, a artista realizou um cotidiano que consiste em ler atentamente os principais jornais do país, para escolher e recortar frases, palavras ou siglas que designem os sujeitos coletivos e as forças sociais que ocupam esses espaços. De forma que as palavras por ela recortadas se tornem uma grande colagem em andamento que se alimenta todos os dias por intervir na lógica e na estética da comunicação publicitária.

Esta obra retrata de uma dimensão poética as forças coletivas que movem a história do país: as que ficam para sempre, as que voltam e as que surgem a cada dia. Ao retirar esses personagens de contextos informativos e explicitá-los como sujeitos históricos, Marilá Dardot visa provocar uma reflexão sobre o papel que desempenham na construção de nossa sociedade.

O projeto ocupou nove espaços publicitários na Cidade do México, durante o mês de maio de 2021: telas de LED localizadas nas estações do Metrobús, importantes pontos de fluxo e conectividade da cidade. Além disso, a proposta possui um importante componente virtual que consiste em vídeos que são publicados diariamente nas histórias do museu e do artista no Instagram.


Primeira página
Belo Horizonte, 2020



Urban intervention | Animation



Intervention in led advertising panels throughout the city of Belo Horizonte,Brazil, through the project "15 seconds" by Inhotim. Primeira página (Front page) follows a series of collages from magazines that I had already started in 2018, now focusing on the front pages of the largest Brazilian newspapers. The words cut out portray the collective forces that move the country's history: those that remain, those that return and those that arise each day. By removing these characters from news contexts and making them explicit as historical subjects, the work intends to raise a reflection on their roles in the construction of our society.

Trabalho criado para intervir em painéis publicitários de led espalhados pela cidade de Belo Horizonte, através do projeto "15 segundos" de Inhotim. Primeira página dá sequência a uma série de colagens a partir de revistas que eu já havia iniciado em 2018, focando-me agora nas primeiras páginas dos maiores jornais brasileiros. As palavras recortadas retratam as forças coletivas que movem a história do país: aquelas que permanecem, as que retornam e as que surgem a cada dia. Ao retirar esses personagens dos contextos noticiosos e deixá-los explícitos enquanto sujeitos históricos, o trabalho busca suscitar uma reflexão sobre os seus papéis na construção de nossa sociedade.




Saudade (Our flags)
Montalvo Arts Center, Saratoga, 2018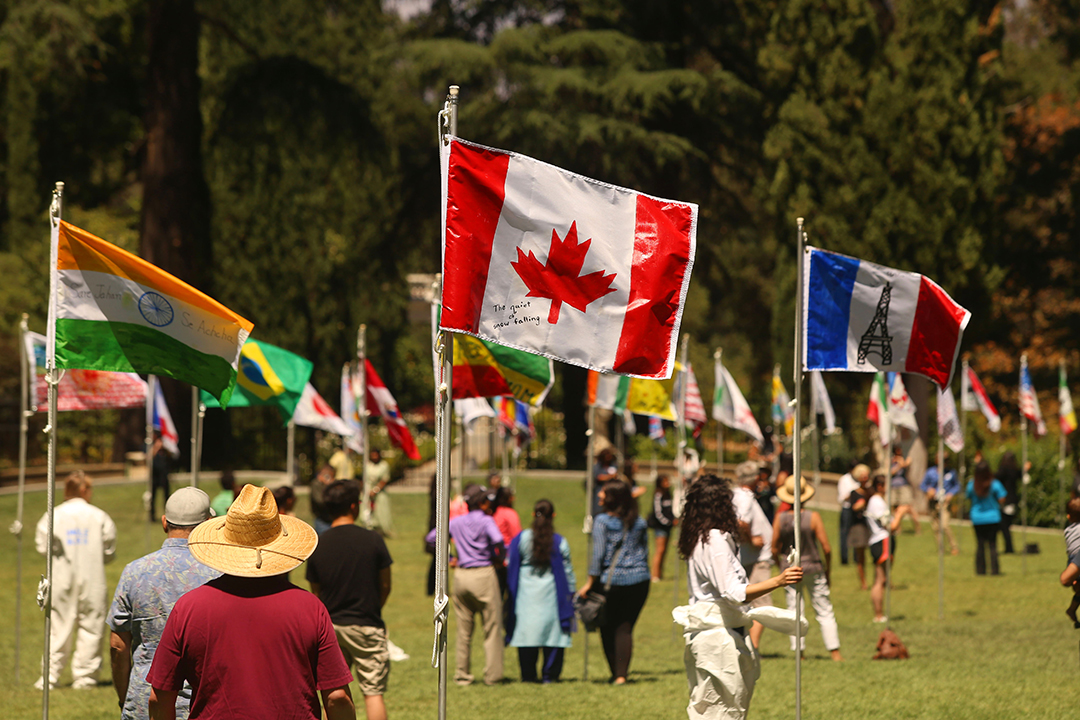 Exhibition view: We the people, Montalvo Arts Center, Saratoga, 2018
Workshop / Installation | 50 hand painted flags, flagpoles

In her first solo project in the United States, Marilá Dardot premieres a large-scale installation of flags created by immigrant and refugee community participants during a series of public workshops. The flags, which represent in text and visual form something their maker misses about the country they were born, were raised on Montalvo's grounds on Sunday, July 15 at a comunal flag-raising ceremony. With this work, Dardot seeks to amplify the voices of our varied diaspora communities, and honor the complexities and challenges of their experience in the midst of a divisive national conversation about immigrants and the nature of American identity.

In Portuguese, "saudade" refers to melancholic longing or yearning and is a recurring theme in Portuguese and Brazilian literature. Dardot states, "At a time when immigrants around the word are increasingly scapegoated and the complexities of their identities and experiences are often simplified, Saudade (our flags) is an opportunity to celebrate immigrants and the richeness of their memories and contributions, making them present and visible in the here and now.
* Text by Donna Conwell on the project
Em seu primeiro projeto solo nos Estados Unidos, a artista brasileira Marilá Dardot estreia uma instalação em grande escala de bandeiras criadas por participantes da comunidade de imigrantes e refugiados durante uma série de oficinas públicas. As bandeiras, que representam em texto e/ou forma visual algo de que seu criador sente saudade sobre o país em que nasceram, foram hasteadas no gramado de Montalvo Arts Center em uma cerimônia comunitária em 15 de julho de 2018. Com este trabalho, Dardot procura ampliar as vozes das variadas comunidades da diáspora e honrar as complexidades e desafios de sua experiência em meio a uma discussão nacional sobre os imigrantes e a natureza da identidade americana.
*Trecho do texto de Donna Conwell sobre o projeto