Modelo para armar, 2022



Clippings from magazines published between 1973 to 2022 on cardboard boxes


Recortes de revistas publicadas entre 1973 a 2022 sobre caixas de papelão
In the installation Modelo para armar (Model kit) that occupies the gallery's main room, nouns cut from magazines published in Brazil since 1973 (the artist's birth year) are glued onto fragments of cardboard boxes, which can no longer be reassemble as boxes. The concepts of historical, political, affective, relational narratives and language itself detour into crisis and are there like a puzzle, to be reassembled, rearranged, resignified.

"The now useless boxes harbor historical, political, affective narratives, and language itself enters the picture to be rearranged and re-signified like projectiles in a symbolic operation. The piece's title references a book by Julio Cortázar, in which he spins a narrative out of mutable pieces, in an 'assembly' where various word displacements set out to purge any fixedness, opening up meanings so the reader can assemble the elements their own way and ultimately write the story themselves. The work of Marilá Dardot also calls upon us as active readers. Her work is not intended to produce stationary meaning; it does not produce subject-fixating explanations of any sort. Her work is a kind of anchoring that is also adrift and invites the production of new words that may recreate existence, in the very vertigo of unfamiliarity."
* Except from the text by Bianca Dias on the exhibition

Na instalação Modelo para armar, que ocupa a sala principal da galeria, substantivos cortados de revistas publicadas no Brasil desde 1973 (ano de nascimento da artista) são cola¬dos sobre fragmentos de caixas de papelão, que já não funcionam para remontar as caixas originais. Os conceitos de narrativas históricas, políticas, afetivas, relacionais e a própria linguagem entram em crise e estão aí como um quebra-cabeças, a serem remontados, rearranjados, ressignificados.

"As caixas, que já não servem para serem utilizadas, funcionam como abrigo de narrativas históricas, políticas, afetivas e a própria linguagem entra em cena para ser rearranjada e ressignificada como projéteis de uma operação simbólica. O título da obra é uma referência a um livro de Julio Cortázar em que o escritor faz a narrativa a partir de peças mutáveis, em uma 'armação' em que deslocamentos diversos das palavras procuram eliminar qualquer fixidez, abrindo os sentidos para que o leitor faça sua montagem pessoal dos elementos e acabe por escrever a história. A obra de Marilá Dardot também nos convoca como leitores ativos. Seu trabalho não visa à produção de um sentido estanque, não produz nenhum tipo de explicação que fixe o sujeito. Sua obra é uma espécie de ancoragem que também é deriva e convida à produção de novas palavras que possam recriar a existência, na vertigem mesma do estranhamento."
*Trecho do texto de Bianca Dias sobre a exposição



Libros y, 2022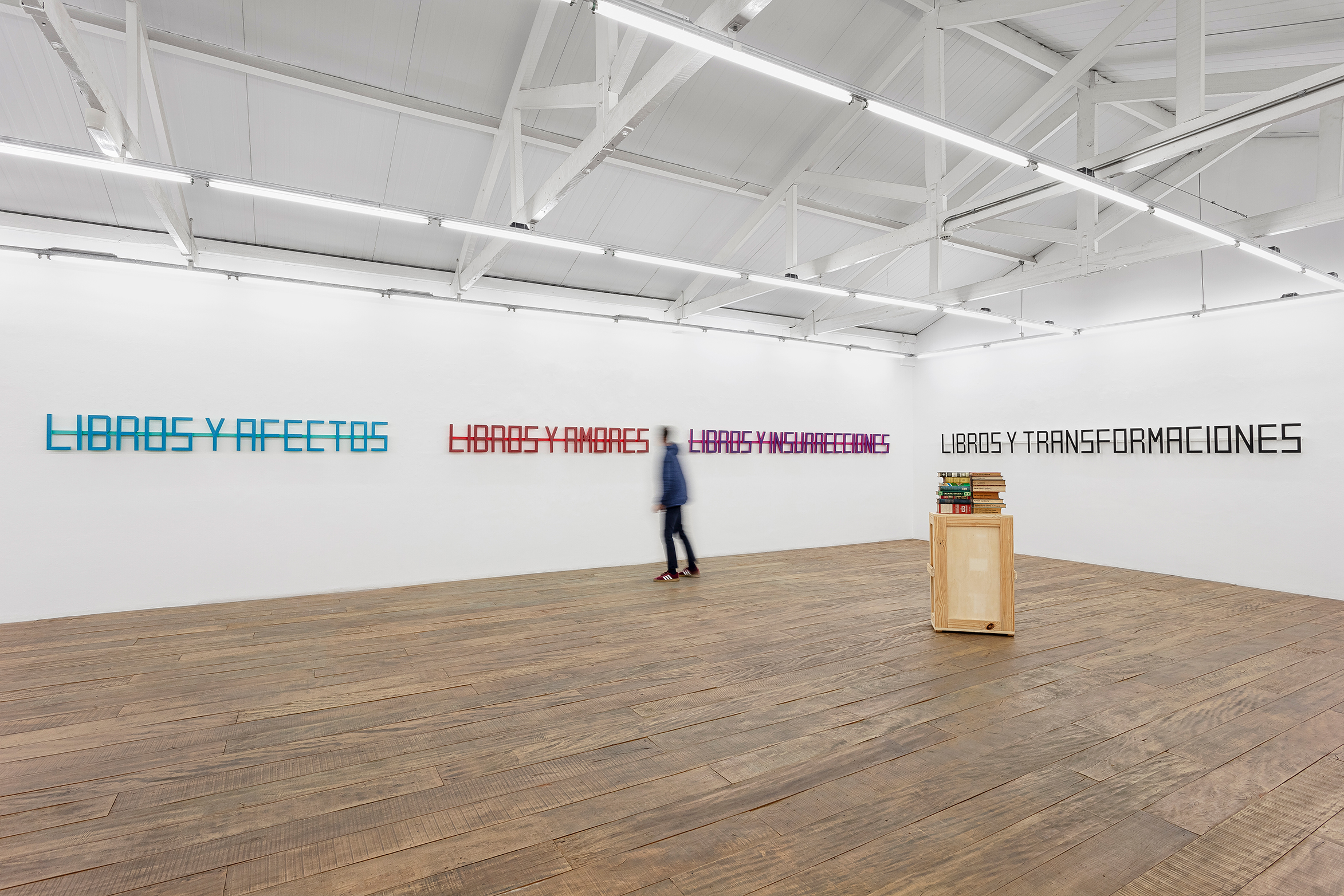 Galvanized steel profile and enamel painting | Variable dimensions


Perfil de aço galvanizado e pintura esmalte | Dimensões variadas




The "LIBROS Y" series was born from the artist's en- counter with a street sign in Mexico City that adver- tised a publishing house: LIBROS Y EDITORIALES. The typology and material of that sign are reproduced to create other associations, as possible categories of an imaginary library in which books appear as sub- jects that catalyze feelings and actions.


A série "LIBROS Y" nasce do encontro da artista com um letreiro de rua na Cidade do México que anunciava uma casa editorial: LIBROS Y EDITORIALES. A tipologia e o material daquele letreiro são reproduzidas para criar outras associações, como categorias possíveis de uma biblioteca imaginária em que os livros aparecem como sujeitos catalizadores de sentimentos e ações.



Domine seu idioma, 2021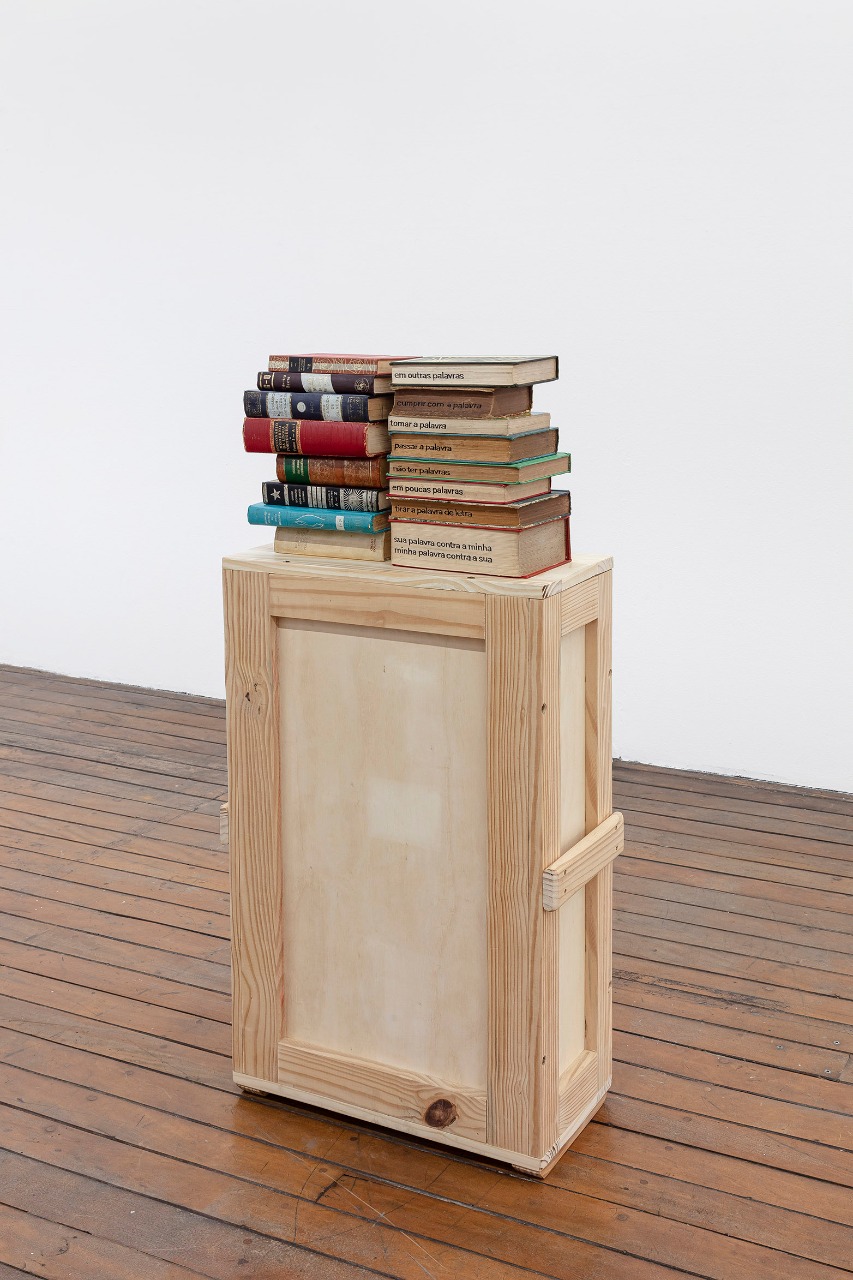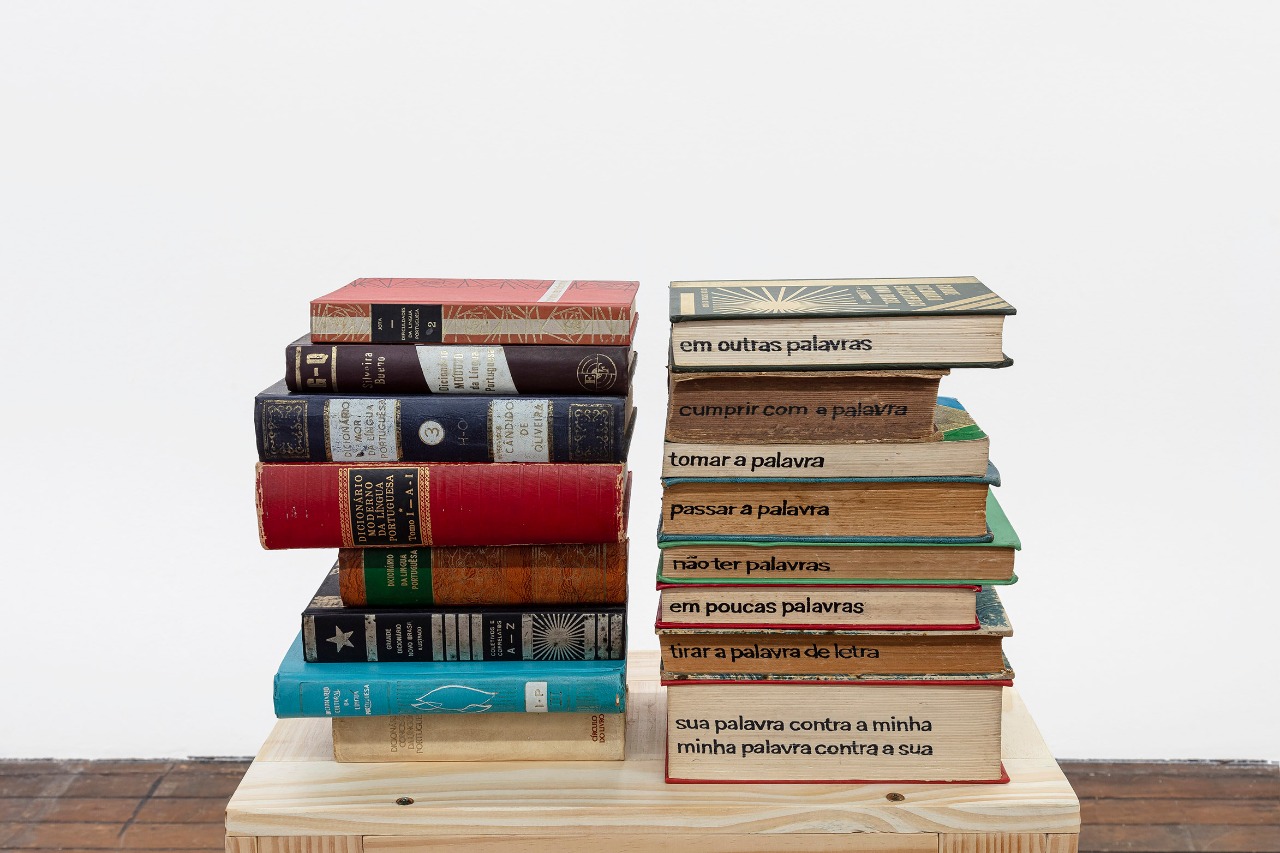 Permanent marker on books and wooden transport crate | 125 x 61 x 28 cm


Marcador permanente sobre livros e caixa de transporte em madeira




While compiling the units of a language, dictionaries also represent a paradigm in which words perpetuate the powers and privileges of a particular class or nation. In Domine seu idioma [Master your language], a collection of dictionaries is used as the basis for a lexical game with expressions associated with speech. The idea of a common language is replaced by that of "their language", presupposing differences and dissidences, opening gaps for new plural articulations.


Ao mesmo tempo em que compilam as unidades de uma língua, os dicionários também representam um paradigma em que as palavras perpetuam poderes e privilégios de uma determinada classe ou nação. Em Domine seu idioma, uma coleção de dicionários é o suporte para um jogo léxico com expressões associadas à fala. A ideia de um idioma comum é trocada pela de "seu idioma", pressupondo diferenças e dissidiencias, abrindo brechas para novas articulações plurais.



ainda sempre ainda, 2022



Spray paint on glass and painted wooden frame| 130 x 200 cm


Pintura spray sobre vidro e moldura em madeira pintada|130 x 200 cm



In ainda sempre ainda (still always still), a painting on glass monumentalizes the words AINDA (STILL) and SEMPRE (ALWAYS) as a superposition of meanings through a semantic game. The two adverbs have the power to modify sentences and meanings, but, devoid of verbs, they remain stagnant.


Em ainda sempre ainda, uma pintura sobre vidro monumentaliza as palavras AINDA e SEMPRE enquanto uma sobreposição de sentidos por via de um jogo semântico. Os dois advérbios têm o poder de modificar frases e sentidos, mas, desprovidos de verbos, permanecem estagnados.



A alegria é a prova dos nove ou Nossa carne é de carnaval, 2021



Acrylic painting on fabric


Pintura acrílica sobre tecido




When Julia Lima invited me to the show Ninguém vai tombar nossa bandeira (Nobody will topple our flag) at Centro Cultural da Diversidade, I wanted to empower the Braziliam diversity of genders, identities, ethnicities, ancestry and origins. Diversity that claims to be revolutionary when it comes together in JOY (ALEGRIA).

Alegria é a prova dos nove ou Nossa carne é de carnaval is a flag made of fabric scraps printed with rebellious lines, which are launched in various directions and colors, mixed together as in a carnival party.


Quando Julia Lima me convidou para participar da exposição "Ninguém vai tombar nossa bandeira" no Centro Cultural da Diversidade, quis fazer um trabalho afirmativo da potência e da diversidade brasileiras, que é de gêneros, de identidades, de etnias, de ancestralidades e origens. Diversidade que se afirma revolucionária quando se junta na alegria.

A alegria é a prova dos nove ou Nossa carne é de carnaval é uma bandeira é construída por retalhos de tecidos estampados por linhas rebeldes, que se lançam em várias direções e cores, misturadas como num bloco de carnaval.



Primeira página, 2020
Exhibition view: Projeto 15 segundos, Inhotim, Belo Horizonte, 2020

Urban intervention | Animation


Intervention in led advertising panels throughout the city of Belo Horizonte,Brazil, through the project "15 seconds" by Inhotim. Primeira página (Front page) follows a series of collages from magazines that I had already started in 2018, now focusing on the front pages of the largest Brazilian newspapers. The words cut out portray the collective forces that move the country's history: those that remain, those that return and those that arise each day. By removing these characters from news contexts and making them explicit as historical subjects, I hope to raise a reflection on their roles in the construction of our society.

Trabalho criado para intervir em painéis publicitários de led espalhados pela cidade de Belo Horizonte, através do projeto "15 segundos" de Inhotim. Primeira página dá sequência a uma série de colagens a partir de revistas que eu já havia iniciado em 2018, focando-me agora nas primeiras páginas dos maiores jornais brasileiros. As palavras recortadas retratam as forças coletivas que movem a história do país: aquelas que permanecem, as que retornam e as que surgem a cada dia. Ao retirar esses personagens dos contextos noticiosos e deixá-los explícitos enquanto sujeitos históricos, espero suscitar uma reflexão sobre os seus papéis na construção de nossa sociedade.





Perguntas apropriadas | Respostas apropriadas, 2020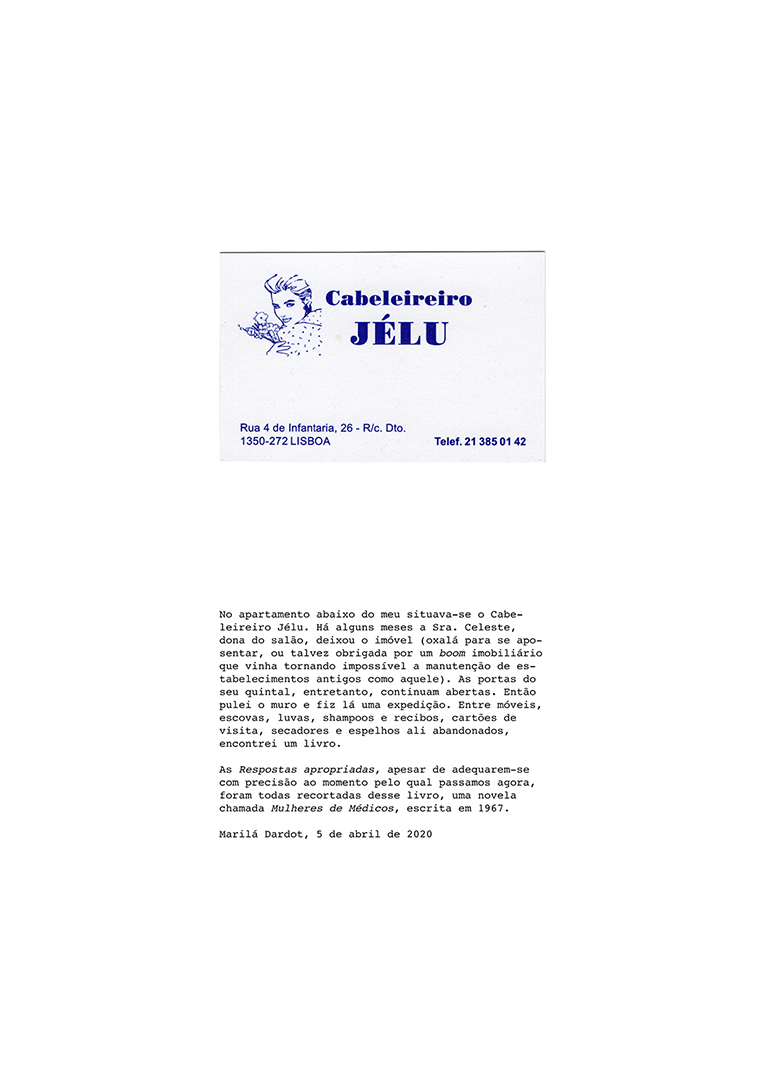 Series of collage | 21 x 29,7 cm (each)


In April 2020, I found a book on an abandoned property. Although they fit precisely in the pandemic era, the phrases used to make the diptychs Perguntas apropriadas e Respostas apropriadas (Proper Questions and Proper answers ) Answers" collages were all cut from this book, a novel called Women in White, written by Frank G. Slaughter in 1967.

Em abril de 2020 encontrei um livro em um imóvel abandonado. Apesar de adequarem-se com precisão ao momento de pandemia, as frases usadas para elaborar os dípticos Perguntas apropriadas e Respostas apropriadas foram todas recortadas desse livro, uma novela chamada Mulheres de Médicos, escrita por Frank G. Slaughter em 1967.


Los cuatro puntos cardinales son tres: el Sur y el Norte, 2019
Steel weather vane | 200 x 95 x 95 cm


The title Los cuatro puntos cardinales son tres: el Sur y el Norte (The four cardinal points are three: the South and the North) is a verse by the Chilean poet Vicente Huidobro. Using internal contradictions in the construction of the verse, Huidobro clarifies relations of hierarchy, power and exploitation between North and South. The sculpture is a weather vane that continues to reduce the four cardinal points to one, claiming a southern view of the world.

O título Los cuatro puntos cardinales filho tres: el Sur y el Norte (Os quatro pontos cardeais são três: o Sul e o Norte),é um verso do poeta chileno Vicent Huidobro. Usando contradições internas na construção do verso, Huidobro esclarece relações de hierarquia, poder e exploração entre o Norte
e sul. A escultura é um cata-vento que continua a reduzir os quatro pontos cardinais a um, reividicando uma visão sulista do mundo.


Ir y volver, 2019
Performance view: XIII Bienal de La Habana, Matanzas, 2019

Performance / Single channel video | 12'52" | HD, color, sound | 16:9

I write with water the sentence "A la esperanza vuelvo" on a light blue wall by the river. As the sun erases the words, I keep writing it over and over again, until I run out of water. Ir y volver was first presented as a performance in Matanzas, Cuba, for the XIII Bienal de La Habana. "A la esperanza vuelvo" is a verse by Carilda Oliver Labra, a Cuban poet who has always lived there.
Escrevo com água a frase "A la esperanza vuelvo" sobre uma parede azul-clara junto ao rio em Matanzas, Cuba. Enquanto o sol apaga as palavras, continuo escrevendo repetidas vezes, até acabar água.
Ir y volver
foi apresentado pela primeira vez como uma performance na
XIII Bienal de La Habana, em Matanzas, Cuba
. "A la esperanza vuelvo" é um verso de Carilda Oliver Labra, poeta cubana que viveu lá toda sua vida.
Lisbon blues, 2018
Exhibition view: Lisbon blues, nanogaleria, Lisbon, 2018
Installation | Boxes, posters and stickers discolored by the sun, cardboard and glass shelves

"Lisbon blues is the title of the art installation in the nanogaleria, composed of around thirty boxes, which precisely reflects the markings that Lisbon bares in its contemporaneity. These boxes, as a whole, form a near mono-chromatic blueish blotch. Collected by the artist throughout the course of four months, they have not been subjected to any intervention or pictorial process. The blueish hue they all display is due, in fact, to the solar exposure they were subjected to throughout their existence on the window displays of small Lisbon shops. These boxes that have remained for years on display, and the resulting chromatic changes, are a reflection of the permanence/transience and sustainability/ erratic-change contradictions of the socioeconomic and political dynamics, be they at the neighborhood level, be they at city or country level. Just as the monochromatic hue of the boxes reveals an erasing of the colors that made up their identities – the last colors to resist solar exposure throughout time are blue and black – so do the recent and constant changes in the typical neighborhoods of Lisbon eliminate many of their sociocultural anchors and meeting points and spots of community relations, changing their sustainable urban dynamics in a drastic fashion."
* Excerpt from text by Luisa Santos and Ana Fabíola Maurício on the installation
"Lisbon blues
é o título da instalação composta por cerca de trinta caixas na nanogaleria que reflete, precisamente, as marcas que Lisboa mostra na contempo- raneidade. Estas caixas, em conjunto, formam uma mancha quase monocromática azulada. Coleccionadas pela artista ao longo de quatro meses, não foram sujeitas a qualquer intervenção ou processo pictórico. O tom azulado que todas ostentam deve-se, na verdade, à exposição solar a que foram sujeitas ao longo das suas vidas nas vitrines de pequenas lojas Lisboetas. Estas caixas que permaneceram durante vários anos nas vitrines e as suas consequentes alterações cromáticas são um reflexo das contradições perenidade-efemeridade e de sustentabilidade-inconsistência das dinâmicas socioeconómicas e políticas quer à escala de bairro, quer da cidade e do país. Do mesmo modo que o tom monocromático das caixas revela um apagamento das cores que compõem as suas identidades – as últimas cores a resistir à exposição solar ao longo do tempo são o azul e o preto – também as recentes constantes mudanças nos bairros típicos de Lisboa eliminam muitas das suas âncoras socioculturais e pontos de encontro e de relação da comunidade, alterando de forma drástica a dinâmica urbana sustentável dos mesmos."
*Trecho do texto de Luisa Santos e Ana Fabíola Maurício sobre a instalação
Lisbon Blues, por Luisa Santos e Ana Fabíola Maurício (Português)︎︎︎
Saudade (Our flags), 2018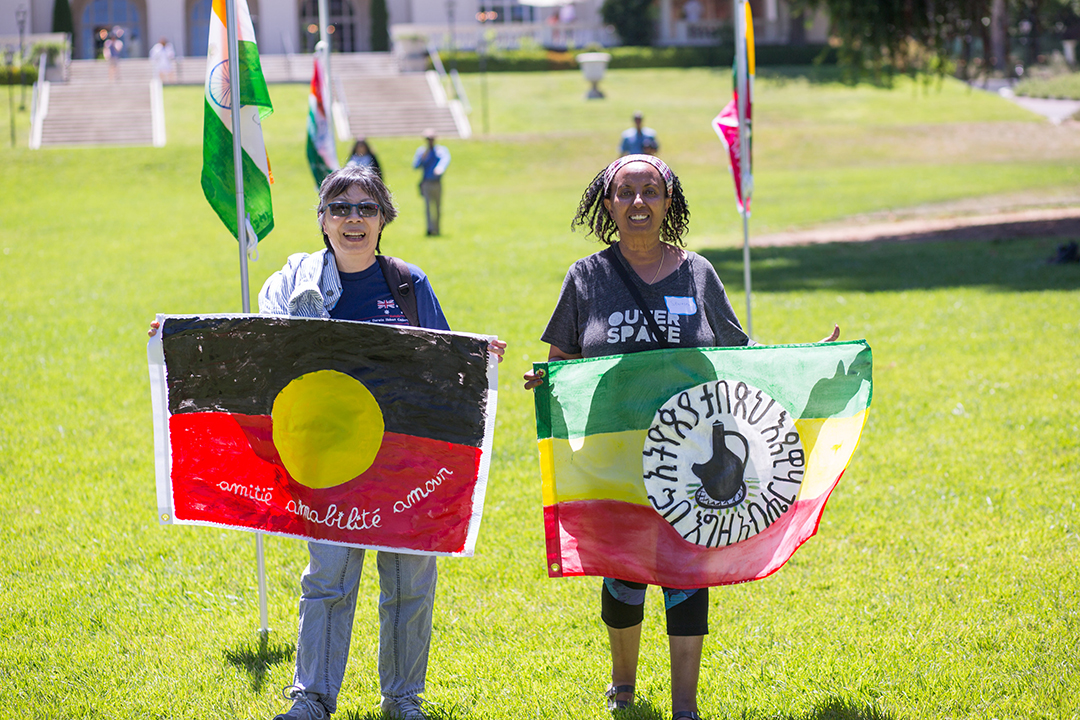 Exhibition view: We the people, Montalvo Arts Center, Saratoga, 2018
Workshop / Installation | 50 hand painted flags, flagpoles

In her first solo project in the United States, Marilá Dardot premieres a large-scale installation of flags created by immigrant and refugee community participants during a series of public workshops. The flags, which represent in text and visual form something their maker misses about the country they were born, were raised on Montalvo's grounds on Sunday, July 15 at a comunal flag-raising ceremony. With this work, Dardot seeks to amplify the voices of our varied diaspora communities, and honor the complexities and challenges of their experience in the midst of a divisive national conversation about immigrants and the nature of American identity.

In Portuguese, "saudade" refers to melancholic longing or yearning and is a recurring theme in Portuguese and Brazilian literature. Dardot states, "At a time when immigrants around the word are increasingly scapegoated and the complexities of their identities and experiences are often simplified, Saudade (our flags) is an opportunity to celebrate immigrants and the richeness of their memories and contributions, making them present and visible in the here and now.
* Text by Donna Conwell on the project
Em seu primeiro projeto solo nos Estados Unidos, a artista brasileira Marilá Dardot estreia uma instalação em grande escala de bandeiras criadas por participantes da comunidade de imigrantes e refugiados durante uma série de oficinas públicas. As bandeiras, que representam em texto e/ou forma visual algo de que seu criador sente saudade sobre o país em que nasceram, foram hasteadas no gramado de Montalvo Arts Center em uma cerimônia comunitária em 15 de julho de 2018. Com este trabalho, Dardot procura ampliar as vozes das variadas comunidades da diáspora e honrar as complexidades e desafios de sua experiência em meio a uma discussão nacional sobre os imigrantes e a natureza da identidade americana.
*Trecho do texto de Donna Conwell sobre o projeto
Contramão, 2018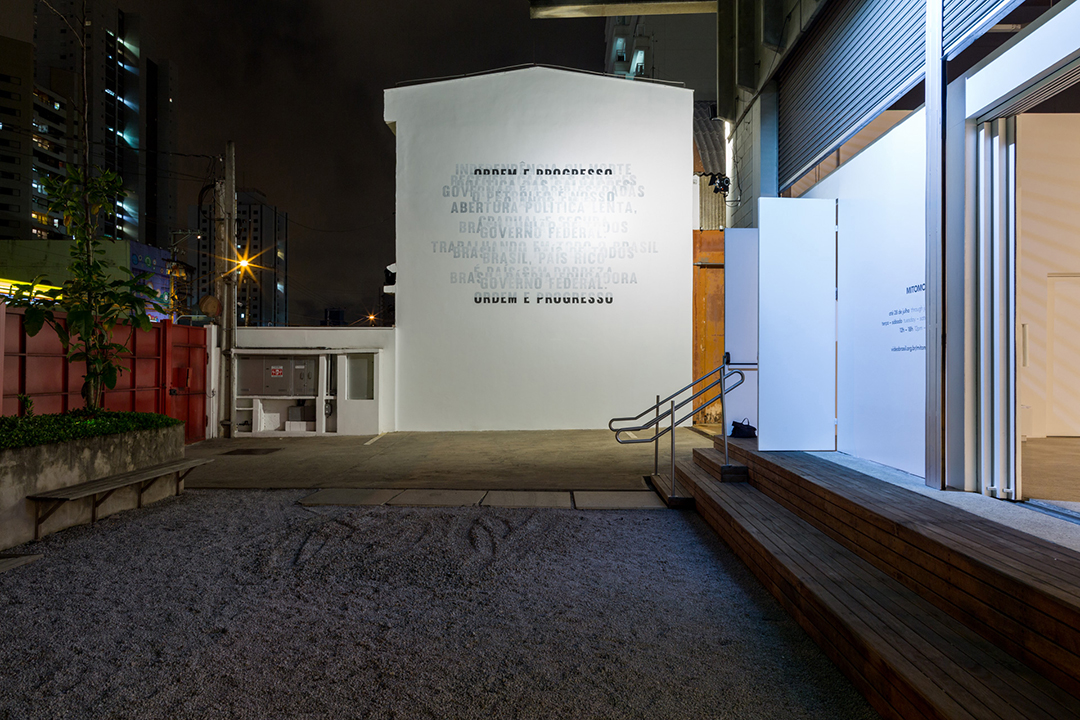 Exhibition view: MitoMotim, Galpão VB, São Paulo, 2018
Latex paint on wall

Mottos of Brazilian governments from 1822 to 2018 are the matrix of Contramão (Wrong way). The mottos are painted on the wall, semi-veiled and superimposed in chronological order. The second motto, "Ordem e progresso" (Order and progress), is only half veiled, splicing up with the last 2016 motto (adopted when Michel Temer assumed the presidency of the country after the impeachment of Dilma Rousseff). Comissioned work for the exhibition MitoMotim at Galpão VB, São Paulo.
Os lemas de governos brasileiros de 1822 a 2018 são a matriz do trabalho. Uns sobre os outros, em ordem cronológica, os lemas são pintados sobre a parede, semi-velados e sobrepostos. O segundo lema, Ordem e progresso, é velado apenas pela metade, para emendar-se com o último, de 2016, adotado quando Michel Temer assumiu a presidência do país após o impeachment de Dilma Rousseff. Trabalho realizado sobre a empena do Galpão VB, São Paulo, para a exposição MitoMotim.
Bienvenidos, 2017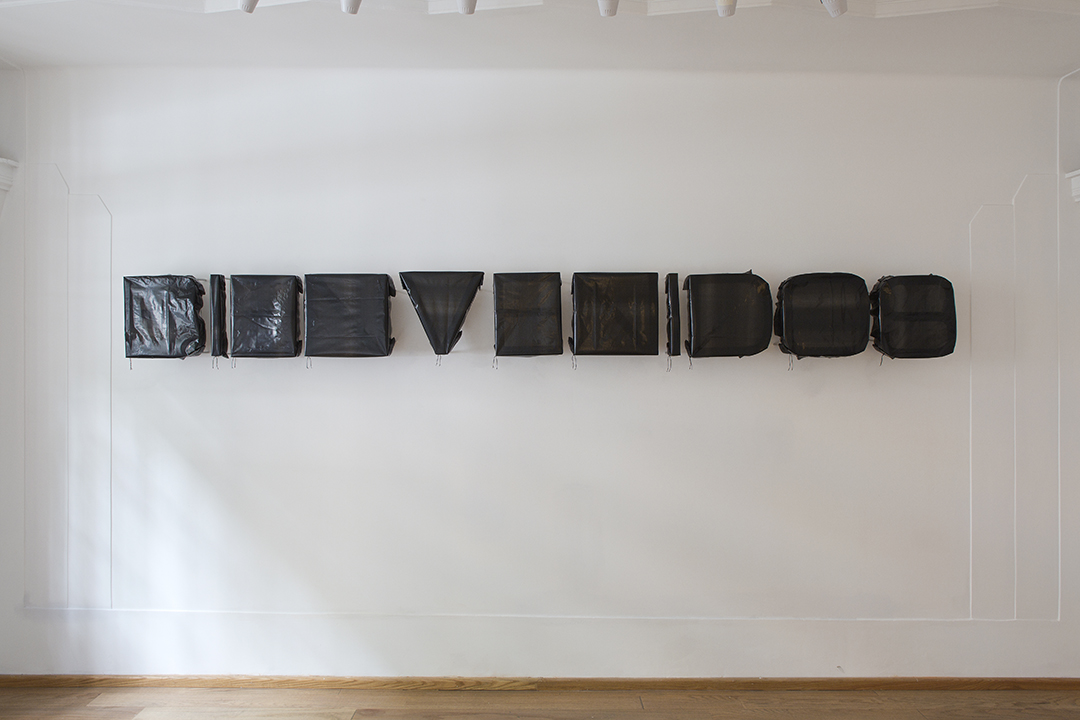 Exhibition view: Bienvenidos, ArredondoArozarena, Mexico City, 2017
Aluminum sign, black plastic | 360 x 35 x 5 cm (141.73 x 13.78 x 1.97 in)

The migration route is one marked by signs, perverse terms and procedures. The greeting signal that every border crossing confers its visitors, is not destined for all.
* Excerpt from text by Tatiana Cuevas on the exhibition
A rota de migração é marcada por sinais, termos e procedimentos perversos. O letreiro de saudação que toda passagem de fronteira confere a seus visitantes não é destinado a todos.
*Trecho do texto de Tatiana Cuevas sobre a exposição
Bienvenidos
Ominosos, 2017
Exhibition view: Bienvenidos, ArredondoArozarena, Mexico City, 2017
21 Lead sculptures | 9.06 x 11.81 in (each)

When in 2014 the United States declared a migratory crisis considering the sudden increase of children detained on the US-Mexico border, and the first deportation of a group of children to San Pedro Sula, Honduras occurred, the very prestigious news agency Reuters reported the event with disconcerting ingenuity: "Looking happy, the deported children left the airport under a cloudy sky and a hot afternoon. One by one, they got on a bus, playing with balloons that had been given to them". For Marilá Dardot, an artist whose attention is focused on the fragile intersection between language and its supports (the word, the page, the book, the wall) and who has explored the terms of that relationship in political speech and its discrepancies, that feeble and quiet signal of the return to innocence that expressed the tragedy of a hopeless journey. In reproducing these globes with the ominous weight of lead, Dardot alludes to the transnational resistance to recognize the shared responsibility of this exodus, as well as to the physical threats that chase migrants beyond their places of origin.
* Excerpt from text by Tatiana Cuevas on the exhibition
Quando, em 2014, os Estados Unidos declararam uma crise migratória, considerando o súbito aumento de crianças detidas na fronteira EUA-México, a prestigiada agência de notícias Reuters relatou a primeira deportação de um grupo de crianças para San Pedro Sula, Honduras, com desconcertante ingenuidade: "Parecendo felizes, as crianças deportadas deixaram o aeroporto sob um céu nublado e uma tarde quente. Uma a uma, pegaram um ônibus, brincando com balões que lhes haviam sido dados". Para Marilá Dardot, uma artista cuja atenção se concentra na frágil intersecção entre a linguagem e seus suportes (a palavra, a página, o livro, o muro) e quem explorou os termos dessa relação na fala política e suas discrepâncias, esse débil e silencioso retorno à inocência expressou a tragédia de uma jornada sem esperança. Ao reproduzir esses globos usando o peso sinistro do chumbo, Dardot alude à resistência transnacional para reconhecer a responsabilidade compartilhada desse êxodo, bem como às ameaças físicas que perseguem os migrantes além de seus lugares de origem.
*Trecho do texto de Tatiana Cuevas sobre a exposição
Bienvenidos
Interdito, 2017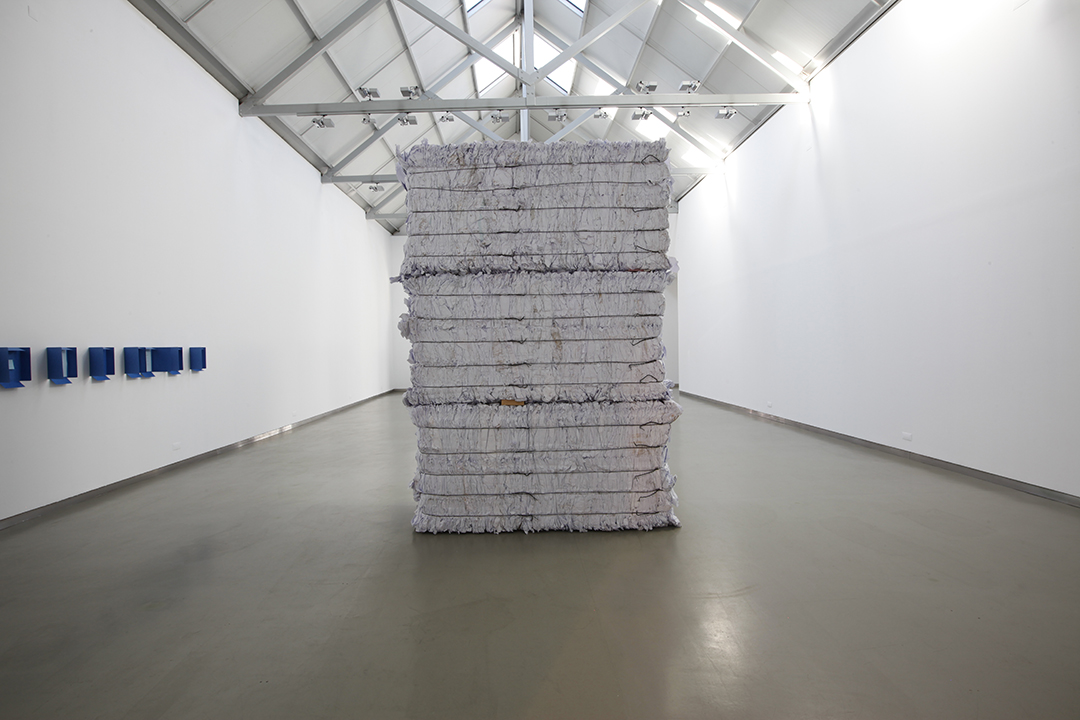 Exhibition view: Interdito, Galeria Filomena Soares, Lisbon, 2017
Installation | 9 bundles of white paper distributed in 3 piles, 14 books | 300 x 200 x 100 cm (each pile)

Installation composed of bundles of paper tied with wire and stacked one on the other. Among the bundles, the artist placed some copies of forbidden books in Portugal (all writen by women, among them the famous Novas Cartas Portuguesas, 1972), which here
are crushed by the weight of censorship, a crushing machine of creative and intellectual freedom. The physical and visual impact of its presence in space refers to the idea of the wall as a barrier and an inescapable symbol of interdiction. The artist challenges the viewer to navigate the space, to circulate between the volumes, fostering an interaction between body, object and space.
* Excerpt from text by Inês Grosso on the exhibition Interdito
Instalação-arquivo de caráter efêmero composta por fardos de papel amarrados com arame e empilhados uns sobre os outros. Entre os fardos, o artista colocou algumas cópias de livros proibidos em Portugal (todos escritos por mulheres, entre eles as famosas
Novas Cartas Portuguesas
, 1972), que aqui surgem esmagados pelo peso da censura, máquina trituradora da liberdade criativa e intelectual. O impacto físico e visual da sua presença no espaço remete à ideia de muro enquanto barreira e símbolo inescapável da interdição. A artista desafia o espectador a percorrer o espaço, a circular por entre os volumes, potenciando uma interação entre corpo, objeto e espaço.
*Trecho do texto de Inês Grosso sobre a exposição
Interdito
O Leitor, 2017
Exhibition view: Interdito, Galeria Filomena Soares, Lisbon, 2017
Installation | 18 paper folders, typewritten texts on blue paper | 32 x 24,5 x 32 cm (each folder)

Reports and orders issued by Direção dos Serviços da Censura (censorship services in Portugal) typed by the artist herself on 25-line blue paper and highlighting red excerpts, expressions or words in a series of blue file folders. In the work O Leitor (The Reader), the result of a long and exhaustive research at Arquivo Nacional da Torre do Tombo (Public library in Lisbon), the word emerges as living matter, as a symbolic place of resistance, freedom and subversion.
* Excerpt from text by Inês Grosso on the exhibition Interdito
Relatórios e despachos emitidos pela Direção dos Serviços da Censura datilografados pela própria artista sobre papel azul de 25 linhas, destacando em vermelho trechos, expressões ou palavras numa série de pastas de pastas azuis. Fruto de uma longa e exaustiva pesquisa no Arquivo Nacional da Torre do Tombo, neste trabalho a palavra surge como matéria viva, como lugar simbólico de resistência, liberdade e subversão.
*Trecho do texto de Inês Grosso sobre a exposição
Interdito
Biblioteca maldita, 2017 | Dito, 2017
Exhibition view: Interdito, Galeria Filomena Soares, Lisbon, 2017

Biblioteca maldita | 15 books, Post-it red markers and steel bookshelf | 21 x 28 x 15,5 cm
Dito | 12 dossiers, mineral print on tracing paper | 30 x 32 x 5 cm
 (each)

Fifteen books written by female writers, playwrights and poets, that were forbidden and confiscated during the regime of the so-called Estado Novo in Portugal (New State, from 1933 to 1945) are presented on a shelf on the wall, as a small personal library that allows us to know more intimately the process and method of work of the artist in building their inventory of words and themes for the exhibition Interdito (Interdict). Natália Correia, Maria Teresa Horta, Pamela Moore, Nita Clímaco, Rosa Luxemburgo, Violette Leduc and Maria Archer are some of the names included in this collection.
On the same room, twelve red dossiers installed directly on the wall show pages printed on translucent paper that are waiting to be clad and read by the viewer. The artist creates thematic files, extolling some of the subjects, contents and words from books that, in a general way, were object of censorship during the regime of the so-called Estado Novo in Portugal (New State, from 1933 to 1945): joy, love, sing, body, desire, freedom, marginals (generic file with the words homosexual, lesbian, whore, prostitute, black, nigger, transvestite) woman, orgasm, word, poetry and silence.
* Excerpt from text by Inês Grosso on the exhibition Interdito
Quinze livros escritos por escritoras, dramaturgas e poetas, que foram proibidos e confiscados durante o regime do chamado Estado Novo em Portugal (1933 a 1945) são apresentados numa prateleira na parede, como uma pequena biblioteca que nos permite conhecer mais intimamente o processo e método de trabalho do artista na construção de seu inventário de palavras e temas para a exposição
Interdito.
Natália Correia, Maria Teresa Horta, Pamela Moore, Nita Clímaco, Rosa Luxemburgo, Violette Leduc e Maria Archer são alguns dos nomes incluídos nesta coleção.
Na mesma sala, um conjunto de dossiers vermelhos instalados diretamente na parede mostram páginas impressas em papel vegetal que aguardam ser folheadas e lidas pelo espectador. 
A artista cria uma espécie de arquivo temático, exaltando alguns dos assuntos, conteúdos e palavras que, de uma maneira geral, foram objeto de censura durante o Estado Novo em Portugal:
alegria
,
amor
,
canto
,
corpo
,
desejo
,
liberdade
,
marginais
(arquivo genérico com as palavras:
homossexual, lésbica, puta
,
prostituta, negro
,
preto
,
travesti
),
mulher, orgasmo, palavra, poesia
e
silêncio
.
*Trecho do texto de Inês Grosso sobre a exposição
Interdito
Flyleaf, 2017-2022
Series of collages | Flyleaves on Accademia Fabriano paper | Variable dimensions

"Flyleaf" is the name given to those leaves folded in half and glued at the beginning and end of the book, to fasten the kerchief to the hard covers. They are usually decorated or of different color and material from other pages, and have the main function of protecting the core of the book. Flyleaf collage series are formal experiments in which flyleaves from various times and origins are superimposed according to their colors. Layers of graphic and sensory memories, vestiges of books that make us fly beyond their contents.
"Flyleaf" é o nome que se dá, em inglês, às folhas de guarda – aquelas folhas dobradas ao meio e coladas no começo e no fim do livro, para prender o miolo às capas duras. Geralmente são decoradas ou de cor e material diferentes das outras páginas, e têm a função principal de proteger o miolo do livro. As colagens da série
Flyleaf
são experimentações formais em que folhas de guarda de diversas épocas e origens são sobrepostas, de acordo com suas cores. Camadas de memórias gráficas e sensoriais, vestígios de livros que nos fazem voar para além de seu conteúdos.
A República, 2016
Digital printing on cotton fabric | 90 × 130 cm (each part of 3)

On the evening of 17 April 2016 Brazil's Chamber of Deputies voted for the "yes" on the impeachment against the President of Brazil, Dilma Rousseff. Watched by tens of millions at home and in the streets, the vote – which was announced deputy by deputy – saw the conservative opposition comfortably secure its motion to remove the elected head of state less than halfway through her mandate.
The house's 513 members voted one by one, each giving a short speech that rarely referred to the supposed reason for which Ms Rousseff is being impeached — her alleged fudging of the national accounts to hide a budget deficit. "In honour of my wife, who is not well, I vote Yes!" cried one lawmaker. Rightwing congressman Jair Bolsonaro dedicated his vote to Carlos Alberto Brilhante Ustra, the chief of secret police during the country's military dictatorship of 21 years that started in 1964. Bolsonaro lauded him as "the terror of Dilma Rousseff", a reference to her suffering as a Marxist guerrilla who was tortured under the dictatorship.
Each piece of A República (The Republic) is a composition in which the speeches justified by família (family), Deus (God) and os meus amigos (my friends) were superimposed in one of the Brazilian flag forms (rectangle, lozenge and circle).
Na noite de 17 de abril de 2016 a Câmara dos Deputados do Brasil votou a favor do processo de impeachment contra a presidente do Brasil, Dilma Rousseff. Assistido por dezenas de milhões de pessoas em casa e nas ruas, a votação viu a oposição conservadora confortavelmente assegurar o seu movimento para remover a chefe de Estado eleita a menos de metade de seu mandato.
Os 513 membros da Câmara votaram um por um, cada um fazendo um breve discurso que raramente se referia à suposta razão pela qual Dilma está sendo acusada – a alegada falsificação das contas nacionais para esconder um déficit orçamental. "Em honra de minha esposa, que não está bem, eu voto sim!", alegou um deles. O então deputado Jair Bolsonaro dedicou sua votação a Carlos Alberto Brilhante Ustra, o chefe da polícia secreta que torturou a presidente durante a ditadura militar. Bolsonaro elogiou-o como "o terror de Dilma Rousseff", em referência ao seu sofrimento.
Cada peça de
A República
é uma composição em que os discursos justificados pela família, por Deus e pelos meus amigos foram sobrepostos em uma das formas de bandeira brasileira (retângulo, losango e círculo).
Demão, 2016
Exhibition view: Guerra do Tempo, Chácara Lane, São Paulo, 2016

Installation | Latex paint on 7 wood panels | Variable dimensions

Based on a historical research, I selected mottos and slogans of various federal administrations in Brazil and protest statements, ranging from "Independence or death" (D. Pedro I, 1822) to the current phrases. The sentences are painted on the exhibition panels at Chácara Lane by advertising painters who formerly painted political advertisements by the city walls. They are painted in black and veiled with white paint, overlapping in chronological order.
A partir de uma pesquisa histórica, selecionei lemas e slogans das diversas gestões federais do Brasil e frases de manifestações populares, que vão de 'Independência ou morte' à atual 'não vai ter golpe'. As frases são pintadas sobre os painéis expositivos da Chácara Lane por pintores letristas, que antigamente pintavam propagandas políticas pelos muros da cidade. Umas sobre as outras, em ordem cronológica, as frases são veladas e sobrepostas, sem nunca apagar completamente a anterior, também ao modo do que acontece na cidade.
Código desconhecido (Chácara Lane), 2016
Exhibition view: Guerra do Tempo, Chácara Lane, São Paulo, 2016

Installation | Book spines glued to mdf, fixed to the wall with Velcro

From the series Código Desconhecido (Unknown code), this work was specially made for the only room at Chácara Lane that was conserved as it used to be. Book spines organized by size into blocks that are similar to illegible bar codes. Once the narratives are vanished, we are left with their structure, which used to put the gathered pages in the correct order.
Da série
Código Desconhecido
, esta obra foi feita especialmente para a única sala da Chácara Lane que se conservou como antes. Lombadas de livros organizadas por tamanho em blocos que se assemelham a códigos de barras ilegíveis. Apagadas as narrativas, resta-nos a sua estrutura, o que costumava colocar as páginas em conjunto na ordem correta.
Quanto é? O que nos separa, 2015
Video / Performance| 10'43" | Color, sound

A close of yellow posters, like the ones that advertise offers in supermarkets, writen by a professional poster artist writes values collected in a research I carried out in the area of Praça Mauá, in Rio de Janeiro. In its first exhibition, during VISUALISMO ARTE TECNOLOGIA E CIDADE 2015, the video was projected on the facade of Edifício A Noite, while performer Felipe Fly improvised an interaction with the public guided by the research questions.

I made this video for Praça Mauá, a place where people from all walks of life, cultures, professions and backgrounds circulate, a sample of Brazilian society. Although we all live there, there are immense economic and social barriers that segregate us. This work is an attempt to explain and question, once again and always, the inequality that rules Brazil.
Um plano fechado de cartazes amarelos, como os que anunciam ofertas em supermercados, nos quais um cartazista profissional escreve valores colhidos em uma pesquisa que realizei na área da Praça Mauá, no Rio de Janeiro. Em sua primeira exibição, durante o VISUALISMO ARTE TECNOLOGIA E CIDADE 2015, o vídeo foi projetado sobre a fachada do Edifício A Noite, enquanto o performer Felipe Fly improvisava uma interação com o público guiada pelas perguntas da pesquisa.
Fiz este vídeo para a Praça Mauá, um lugar onde circulam pessoas de todas as classes sociais, culturas, profissões e origens, uma amostra da sociedade brasileira. Apesar de convivermos todos ali, há imensas barreiras econômicas e sociais que nos segregam. Este trabalho é uma tentativa de explicitar e questionar, mais uma vez e sempre, a desigualdade que rege o Brasil.
Diário, 2015
Single channel video 118'12" | Video installation (3 or 7 channels) | HD, color, sound

From 8 to 30 January 2015, I made a video every day, using the most impactful of the headlines I read in Mexican newspapers. Written with water on the big concrete wall of the house designed by Tadao Ando, the headlines go off as soon as they are written, materializing the ephemerality of its impact. In the video installation version of the work, the anxiety is accentuated by the simultaneity of projections, and sometimes by some symmetry between the news.
* Work created during residency at Casa Wabi, in Oaxaca, Mexico
Watch the video installation documentation︎︎︎
Entre 08 e 30 de Janeiro de 2015, realizei um vídeo a cada dia utilizando a mais impactante das manchetes que lia em jornais mexicanos. Escritas com água sobre um grande muro de concreto, as manchetes apagam-se logo que são escritas, materializando a efemeridade de seu impacto. Na versão instalativa (3 ou 7 canais), essa angústia é acentuada pela simultaneidade das projeções, e por vezes pela simetria entre as notícias.
* Obra criada durante residência artística da Casa Wabi, em Oaxaca, México.
Assista a documentação da videoinstalação
︎︎︎


Textos︎︎︎
Todo cinema é uma política, por Beatriz Furtado (Português)︎︎︎
Diário: a paixão do gesto, por Amanda Moura (Português)︎︎︎
As más notícias, por Maria Angélica Melendi (Português)︎︎︎
Las malas noticias, por Maria Angélica Melendi (Español)︎︎︎